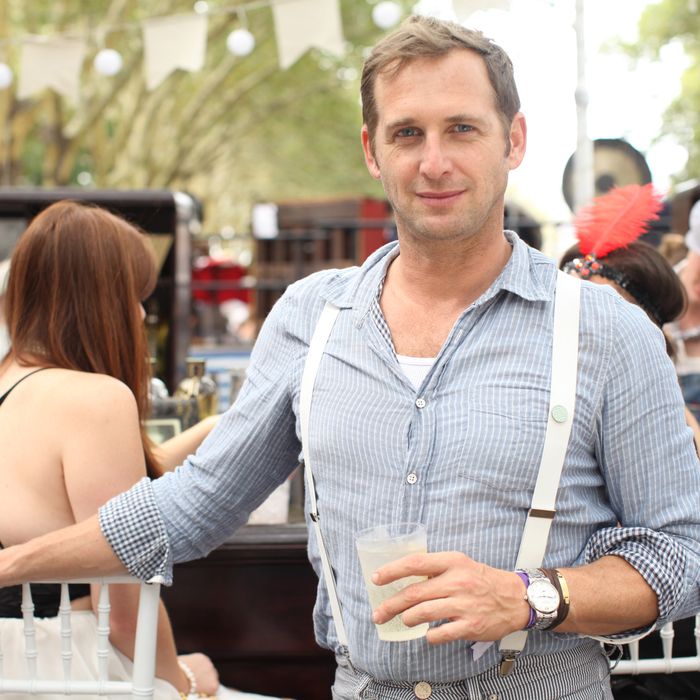 "I had sake, which turned out to be a mistake. I had mixed many liquors that day."
Photo: Melissa Hom
Actor Josh Lucas is a big fan of Julie Reiner, the subject of last week's Grub Diet, and her cocktails: He visited the Jazz Age Lawn Party twice this past weekend. Lucas is also a regular at Café Grumpy, where he stops for jalapeño biscuits almost every morning, before filming The Mysteries of Laura, his new show for NBC. When Lucas isn't on set, or spending time with his 2-year-old son, he runs the gourmet drinks garnish company Filthy Food — and he's so committed to the cause that he carries blue-cheese-stuffed olives with him at all times. This, and more, in this week's Grub Diet.
Friday, August 15
My daily morning ritual is to take my little 2-year-old, Noah, via his scooter, a few blocks to our local Café Grumpy, where we share a jalapeño biscuit and I have a hot coffee, even in summer. And it's always a jalapeño biscuit. Unless they're out, and then there has to be conversation between me and my son about the options that are left. Luckily, we're usually there for the first batch.
Because I'm working a lot on my new show, someone introduced me to this company called Blue Apron. For lunch, I made the rice-and-beef-stuffed poblano peppers with lime-crema sauce and pepitas. I've never been much of a cook. I'm someone who loves to eat, that's for sure: I'm often notoriously loud about how good the food that I'm enjoying is (I think that's why people love having me as a dinner guest). But cooking is still a learning process for me.
Then, I went to work, which this day, was in the lower part of Manhattan. On my break I happened to walk by this intriguing-looking restaurant, Nebraska. I guess it's kind of a staple for insiders who live down there and for the Wall Street crowd — like guys will go after work and have huge steaks and talk about money. The space is quite small and old-school, and the food was phenomenal. It turned out to have one of the best steaks I've had in the city. And Nebraska is also notorious, I learned, for having very large, very free-flowing martinis. So I had a couple of vodka ones. I added a some of Filthy's blue-cheese stuffed olives, which believe it or not, I often carry with me, along with the black cherries, in case I'm having Scotch.
Saturday, August 17
Friday night was a long one: I got home from shooting around 3:30 a.m., and then woke up at 7 with my son. We hit Grumpy before taking the ferry out to the Jazz Age Lawn Party on Governors Island. I'm really a fan of Governors Island. It's such a beautiful escape.
On the island, I had burgers, chicken, and oysters from Jimmy Carbone, and heartily drank Prohibition-style cocktails. I enjoyed quite a few drinks — but they were St-Germain-based, which is lower in alcohol, so I could still watch Noah responsibly. I stuck mainly to one cocktail called Strike Up the Band: gin, St-Germain, grapefruit, lime juice, simple syrup and muddled strawberry and sparkling water. Delicious.
I topped off a day of burgers with a Black Angus burger. Right up the street from the Governors Island Ferry is this three-story spot called Trading Post, which is just a good bar with really good food. Let's just say the half-pound burger on the sesame-seed brioche bun was a great way to soak it all up.
Sunday, August 17
A full night of sleep Saturday night, then Grumpy, and then we were back out on the island by 10:30 a.m. for some more burgers, oysters, and cocktails. On Saturday, I was pretty good at keeping with one specific cocktail. Today, I tried all of them.
Noah's favorite activity at the Jazz Age Lawn Party is to take kids — whether they're friends we bring or just random kids he meets there — and dance. It's just great. And of course, we dress in periodwear.
Needing something light for dinner, we went to Suteishi, which is on the South Street Seaport, and recently reopened after Sandy destroyed it. Sushi was one of the first foods Noah ever ate — and he'll pretty much try whatever I eat to see if he likes it. Edamame is a constant snack in our house.
Suteishi makes fusion sushi, and does things like bring a stone to the table with a little fire underneath it, and you'll cook either the fish or the vegetables on top. It's very Japanese — clean with beautiful tastes, and the sort of place that doesn't give you wasabi or soy sauce unless you ask for it, because they flavor everything precisely. We cooked shrimp at the table with portobello mushrooms, and I had sake, which turned out to be a mistake. I had mixed many liquors that day.
Monday, August 18
A Grumpy breakfast. When I originally started going there, it was for their single pour-overs, but then I quickly discovered that the drip coffee was easily as good and a lot cheaper, so that's what I usually get.
Filthy's office is out in Red Hook, and I happened to have a very short workday, so Noah and I went out there to talk to Mark, one of my partners. While in Red Hook, we went to Hometown Bar-B-Que for lunch, which I would genuinely say is one of the best barbecue places in the in the United States. It's the real deal, with a nice vibe, and it's winning awards all over the country right now. I had the brisket and collard greens, and got the mac and cheese for Noah. It was the middle of the day, so an Arnold Palmer to drink.
Dinner was pan-seared cod with Parmesan-crusted squash and roasted red potatoes, sent from Blue Apron.
Tuesday, August 19
Noah wakes up when he wakes up, and whenever he does, he must immediately have juice. Sometimes it's at a regular hour, but early this morning, he put his fingers inside of my nostrils, pulled my head up, and screamed, "Juice!" And I'm like, "It's 3:30 in the morning, man, go back to sleep." He did. And after we woke up again, we had cereal for breakfast: Honey Nut Cheerios for him, and Kashi for me.
I went to work, and it was actually a bit of a letdown: By the time I got to the set, they had already had lunch. So I went around the corner from where we were shooting to one of those fresh tortilla places. When I was first in New York and didn't have any money, I used to eat in these places all the time. They're little hole-in-the-walls and the food is really simple — like they make grilled chicken and rice and fresh tortillas. I had that for lunch.
I was released early from work, so I picked up an order from Rosette for dinner. I had their very addictive Brussels sprouts with cashew, Fuji apple, tamari, and crispy quinoa. At home, my go-to drink is Black Label with a cherry inside of it. And then I was literally in bed by 9:30 p.m., with Noah next to me.
Wednesday, August 20
Cheerios for breakfast because Noah's had a bit of a cold, and has only wanted to stay home and play with his cars. After the babysitter showed up, I went to Grumpy and got my coffee.
Lunch was leftover roasted potatoes. I'm on hold today, which means I sit and wait to hear whether we go in. The set life is one where you oftentimes go to work really early in the morning and come home really late at night. I could also eat set food, and, don't get me wrong, it's normal, good, decent food. But the problem is that it's a quick way to get fat. You watch the entire crew slowly gaining weight as the season goes on. That said, if they call me in, I'll probably eat dinner on set tonight.