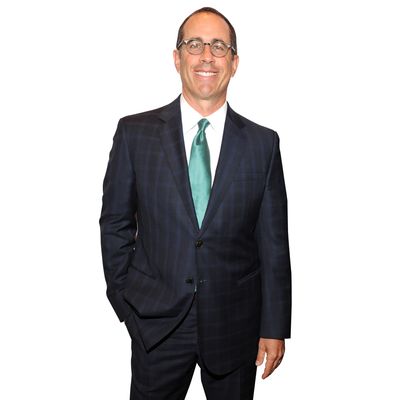 "Good utensil manipulation is very important to me."
Photo: Kevin Mazur/Getty Images
Jerry Seinfeld has turned his very funny web series Comedians in Cars Getting Coffee into a quick, additional series of outtake episodes he's calling Single Shots, pulling together clips of his Coffee guests riffing on a single theme. This week's edition is all about food, so in honor of the occasion, Seinfeld himself agreed to hop on the phone with Grub Street to talk about just that — and it turns out eating and drinking are topics that Seinfeld is more passionate about than we might have thought. Read on to hear the comedian's thoughts on proper utensil manipulation, the glories of burnt food, and his plans to go on a Greek-coffee bender in Astoria.
You seem to have become a more adventurous eater. Is this a new thing for you?
I've eaten passionately for years — just not good food!
Are you still into food that's "overcooked and burnt"?
Yes! I love burnt toast, burnt pasta, burnt fish. I had some burnt … what's that white fish that people like?
Sea bass?
No. The other one … Very light, flaky white fish. Should I Google it?
Branzino?
Branzino! Thank you, Sierra! I had never had it burnt and crispy on the outside. It was great! That is what that fish needs.
Where do you like to eat right now?
I've been out on Long Island all summer, but when I'm in New York, we go to Charlie Bird a lot. My wife, obviously, is way ahead of the curve. I'm very impressed, actually, with the Goldberg bagel, which has expanded quite a bit on Long Island this summer. With the demise of H&H;, I have not found another bagel in New York that I really like. There are a number of decent ones, but I don't feel that they're as good as H&H;'s. But I do feel that this Goldberg bagel is as good.
Are you aware of Black Seed?
I haven't had much of that. I don't know if I would like that. But I'll tell you a place we've been to a couple times: Dough in Bed-Stuy. That place is amazing!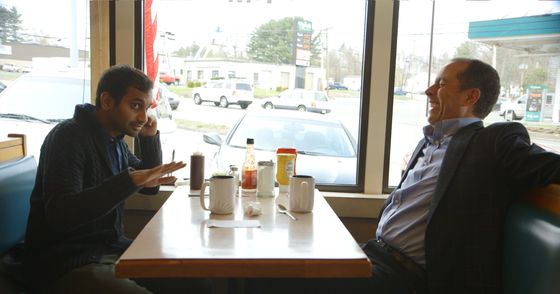 Talking food with Aziz Ansari "Single Shots."Photo: Courtesy of Columbus81
Anything else that you're wanting to check out now?
I'm really into Greek coffee now. We had a vacation in Greece this year, and the way they make coffee just stunned me. Now I'm going to scour Astoria for the best Greek coffee I can find. I don't know how they make it! But it's totally different. The bottom of the glass has a quarter inch of thick, muddy grounds in it. And it has three different colors: a light cream, a tan, and then a dark brown on the bottom. It looks like a Neapolitan.
You didn't start drinking coffee until a few years ago. Are there other foods or drinks that you've discovered later in life, and now love?
There's a place in Nashville called Prince's Chicken, which is one of the hottest chicken places in the country. I saw a mini-documentary about it, and then we were working in Nashville, and I went there. Apparently, the chicken is so hot that it makes people engage in spontaneous sex acts in the parking lot. So we went there late at night after a show. It's all black people at, like, two in the morning. It's not in the greatest neighborhood. It was me and two other guys in suits. We took our suits off and rolled up our sleeves. We got the sauce all over our white shirts and screamed from the heat. It's so spicy! That was the most adventurous thing I've eaten lately. I'm definitely going back there, too.
What do you consider the defining characteristics of a good dining companion?
Good utensil manipulation is very important to me. I like people who are careful and eat when they eat. I like either that, or just complete Bacchanalian abandon. One or the other: Either make a mess, or be perfectly neat. Those are the two things I like.
Who's the best eater you know?
The best eater I know is Nacho Figueras, the polo player, who's also a model for Ralph Lauren. He's a really, really accomplished eater. In fact, that's how we met! I was at some event, and I was admiring his handling of string beans. I said, Boy, you really know how to eat a string bean! I can't find a graceful way to eat string beans. But he would cut them and then stack them on the fork, as I would just stab it, put it in my mouth, and then force it in, which is not elegant … Two other great eaters that I've seen: James Gandolfini was a great eater on The Sopranos. And Ray Winstone in Sexy Beast is also a very appetizing eater. Watching Gandolfini eat on The Sopranos made me hungry, and the same with Ray Winstone.
Do you watch food TV shows?
No. I don't watch food shows, and I don't go to strip clubs. I'm not interested in kind of doing something. I can't taste it. I can't smell it. Food shows are a complete mystery to me. I have no interest.
On a totally different note, is Seinfeld actually coming to Netflix?
I have some associates of mine in beautiful suits and loafers and expensive glasses, and they handle all that stuff for me. That's their job, but there are some rumblings.