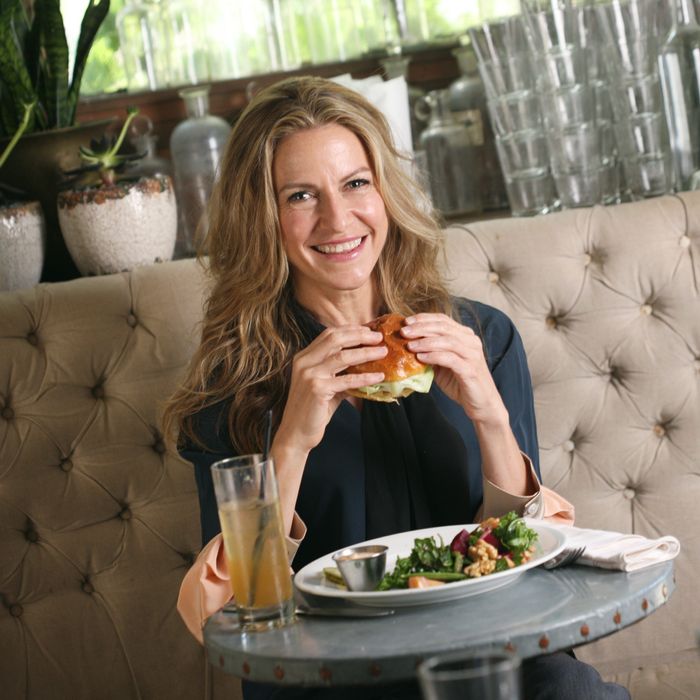 "I do like a good burger."
Photo: Melissa Hom
"I'm a big believer that you go with your cravings," says Jane Pratt, the creator of xoJane, and the founding editor of Sassy and Jane. That explains the anything-goes approach she takes to her diet: She'll chase a Breslin lamb burger with Domino's pizza, get lobster delivered from Wolfgang's, and throw together duck-egg pancakes with xoJane contributor (and former Diet subject) Courtney Love, just to see how they turn out. To read all about this — and so much more — check out this week's Grub Street Diet.

Friday, July 25
I make myself tea every morning. I brew my own, or I'll mix up a bunch of different tea bags. Sometimes I'll go up to six bags of tea! If there's a tea that says it's going to give you energy, I believe that it will give me energy! I had a mix: The base was a Yogi Tea called Sweet Tangerine Positive Energy, and I added Get Limber, Get Clean, and Get Active. I didn't do Get Gorgeous because I didn't care how I looked that day.
I stopped for a coffee at Kaffe. I only occasionally drink coffee. It's like partying: It's fun, but it's not an everyday thing, and I don't make it at home.
Lunch at Smith & Mills! That was delicious. I had the cheeseburger and the market salad and French toast. That was all for me, but there were two other people from work there.
I went to this benefit for a new gallery space in a loft on the Lower East Side. They had a chef who was supposed to come, but something went wrong and his flight didn't make it from Europe. So all they had to eat was oysters! I ate 15 or 20, and then some caviar. As part of the performance art, they thought it was funny to give me a potato that wasn't cooked, so I tried to carve into a hard, cold, not-baked potato. But I was just going with it, so I didn't really realize and I actually ate some of the raw potato. The other person who got the raw potato stood up and made a big deal out of it. I was just trying to pretend everything was normal.
We were so hungry after that we went to La Esquina. I ordered steak, and someone else got enchiladas, and we all ate each other's food.
Saturday July 26
I have my tea routine, but if I wake up hungry, what I would usually do is eat the breakfast I make for my daughter in the morning: the not-healthy combination of Nutella on white bread with the crusts cut off. I spread the Nutella on like I'm icing a cake.
Lunch was at Courtney Love's apartment, but before that, she took me and my daughter to this chanting thing. And on the way back, instead of going to a restaurant, we stopped by Dean & DeLuca and we got ingredients for pancakes. My daughter was intrigued by the duck eggs, so we made some of the pancakes with duck eggs. They were a little richer. And we ate sausage and chocolates.
I ate dinner at a friend's apartment in Tribeca. A couple of different people cooked: They made delicious pappardelle pasta, my favorite, with some delicious sauce, and my other friend made cupcakes.
Sunday July 27
Same routine for breakfast, and I threw an apple in my bag, which is pretty common. I'm a big apple fanatic.
I was supposed to go to Applebee's with my daughter in Times Square. We go a lot to there and Dave & Buster's. Ugh! But this day, I won, and instead of Applebee's, we went to Stardust Diner, where they sing the songs. I had a burger and she had spaghetti and we shared a little.
I did a ton of snacking. Lately, I'm in a beef jerky craze. There's a brand called Krave that I somehow think is healthier than the others. I probably have 20 bags of different kinds of jerky in my house. I also have a lot of those Brad's Raw Chips. It says on the thing, A meal in a bag! I trust that it is! But if you have three or four bags, I think you're good!
Dinner was an expired yogurt out of the refrigerator, with fruit and a bag of kale chips.
Monday July 28
Same breakfast. For lunch, we ordered in from Green Symphony. I ate some kind of wrap with tempeh and some kind of smoothie.
We have a lot of snacks here in the office: those flattened pretzels, and dried fruit. I'm the only person who likes the dried kiwi. It looks scary because it's florescent green, but it's really delicious.
We had a staff dinner at the Breslin to celebrate promotions and new hires. Our offices used to be right near there, so we'd go there a lot for lunch while we launched xoJane. I ordered the lamb burger, which I always like, and one of my editors ordered the pork with mushrooms, and we ended up splitting the two. Plus a bunch of sides: burrata and vegetables. Every time we go there, because we don't act our ages, we have to order the seafood sausage. Someone on our staff thinks it looks like a penis — and she thinks it tastes like it, too. We disagree and say, What is with your boyfriend that this tastes like a penis to you?
I'm not good at sitting down for a meal with my daughter every night. But this staff dinner ended kind of early, and she was hungry and wanted Domino's pizza, so I ordered some and ate Domino's with her. They have these cinnamon sticks that you can get on the side with white frosting. They prompt you when you order! So of course you say, "Yes!"
Tuesday July 29
For lunch, we ordered in from Blossom du Jour. I had a tofu scramble and a kale salad. It was not that exciting. It's sort of my standard.
I live near the downtown Wolfgang's, and they know us, because we're often hermits. I really don't cook. I order in a lot from Seamless. It's cute because the waiter shows up in our elevator with his whole little getup on, and you feel like you're having a nice little meal. It's very much like a hotel, and I've done a lot of hotel living in my day. I got lobster and my daughter got a filet. And sometimes they'll bring us ice cream, and bones for the dogs.
I also went into the fridge and had raw cookie dough. I'm so bad — I don't even slice it! I also have an entire drawer in my kitchen called the Candy Drawer. It's not organized candy. It's like the archaeological dig of candy — you can dig down to the Christmas candy from the year prior.
Actually, last week, my colonoscopy didn't work because I ate gummy bears and hard candies. I read online as I was going through the cleanse-fast process that you can have gummy bears as long as they're not the red ones. So I found a bag of gummy bears in the drawer! But I got there and I guess that wasn't sufficient.
Wednesday July 30
Similar morning routine. My schedule was so back-to-back, and I doubted that I'd have time to focus on lunch, so when I was on my way to the office, I stopped at a salad place on the corner that no one goes to. I had them make me a salad with hard-boiled eggs on it, and some stuff that made it more substantial.
For dinner tonight, I was thinking that I'd eat the leftover filet from last night. But I'm starving now! I'll probably do that, with something else going on. It's a little unusual that I have this much red meat! I'm a big believer that you go with your cravings. I'm sure I must be a little anemic. But I do like a good burger.