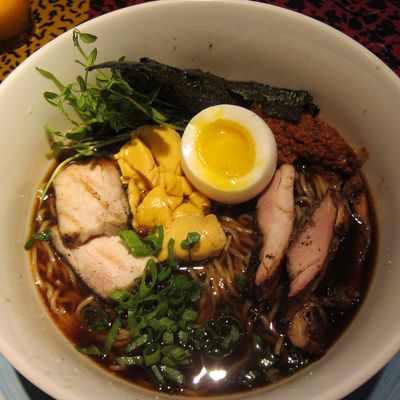 This one's got jerked pork belly slices and jerk chicken.
Photo: Scott Lynch
Ramen that's thickened slightly with fermented scotch bonnet pepper paste and topped with jerk pork belly slices pretty much nails the sweet spot on the mash-up spectrum between those blue-collar ramen hoagies and the more futuristic ramen churros, so it's no surprise to hear that the recurring special at Miss Lily's 7A Cafe has developed a following. The ramen, which is also made with chicken, ackee, bitter greens, and a decapitated soft-boiled egg, goes on sale in limited quantities Monday nights at the East Village restaurant, then stays on the menu until it sells out. Bedford + Bowery says it "sounds more fiery than it is," but Grub has heard some reports to the contrary.
If we've learned one thing in the past few years, it's that ramen mash-ups are never isolated events, and so it goes that the batter and sausage specialists at Corndog Factory have perfected their own ramen version, which consists of a delightfully round ball that's topped with crunchy Top Ramen bits. They're apparently also experimenting with whole ramen-breaded hot dogs at the Hester Street Fair as well. Bring the kids!
Ramen Mash-Up Madness! Jerk Ramen and Ramen Corndogs Hit the Scene [Bedford + Bowery]
Related: Jerk Chicken Ramen With Scotch Bonnet Chili Paste Sounds Very Spicy]