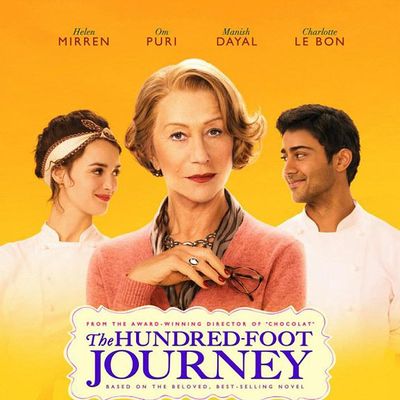 "A moving piece of food porn."
Another food-focused film hits theaters today: The Hundred-Foot Journey, based on the novel by the same name, is about two restaurant owners who operate competitive restaurants on the same street in a small French town, and come from totally different backgrounds. It stars Helen Mirren, and boasts Oprah Winfrey and Steven Spielberg as producers, and the general consensus is that it's a pleasant, but perhaps forgettable, movie that you should not see on an empty stomach.
New York's Bilge Ebiri think it's "a moving piece of food porn"; L.A. Times' Kenneth Turan says, "this cinematic equivalent of comfort food goes down easy"; and Time's Richard Corliss writes, "There's one shot that should bring tears of joy to anyone who thinks of food as something more than the stuff grabbed from a plastic bag and automatically consumed on a couch during a reality show."
But in his review, A.O. Scott takes issue with the cooking details, specifically an inaccurate lesson on making hollandaise. "The Hundred-Foot Journey is at its worst when it steps behind the stove," he says. "… This film is not in love with food; it is commercially invested in the idea that food is something people think they love. It is an empty pastry shell, an artificially sweetened meringue, with no substance or conviction." Ouch. It might be best to save this one for an overcast weekend, or if your desired Guardians of the Galaxy showing gets sold out.