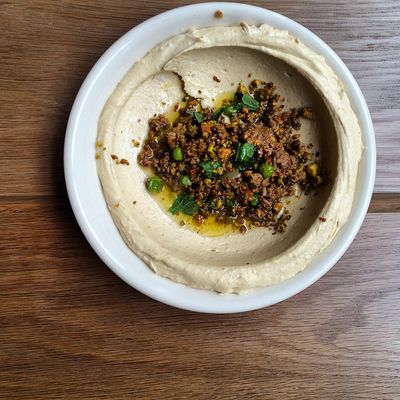 Hummus with Lamb (and pistachios, peas, mint, and cinnamon).
Photo: Courtesy of CookNSolo
Anyone who's visited Zahav in Philadelphia knows that Mike Solomonov's hummus is incredible. The only downside of eating dinner there is that it's hard not to fill up on it, so it makes perfect sense that Solomonov and the CookNSolo have finally opened an Israeli hummusiya on Sansom Street. Dizengoff, named after a street in Tel Aviv, serves four different hummus plates — with tehina, corn, matbucha (roasted tomato salad), or lamb — plus fluffy, housemade pita, two salads, lemonade, and beer. It's arguably even worth the hour or so Amtrak ride from New York to 30th Street Station — especially because while you're there, you can pick up dessert at Solomonov's Federal Donuts.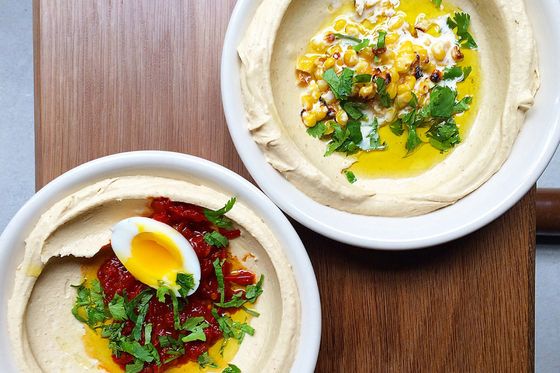 Hummus with Matbucha (roasted tomato salad, hard-boiled egg); Hummus with Corn (fenugreek masabacha, roasted corn).Photo: Courtesy of CookNSolo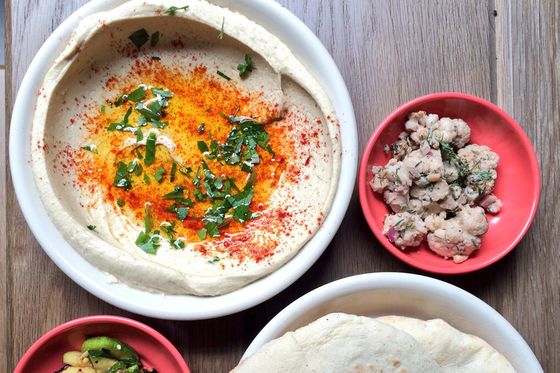 Hummus Tehina — and sides of zucchini with cherry-tomato vinaigrette and cauliflower with walnuts, tehina, and dill.Photo: Courtesy of CookNSolo
Dizengoff, 1625 Sansom St., Philadelphia, 215-867-0088