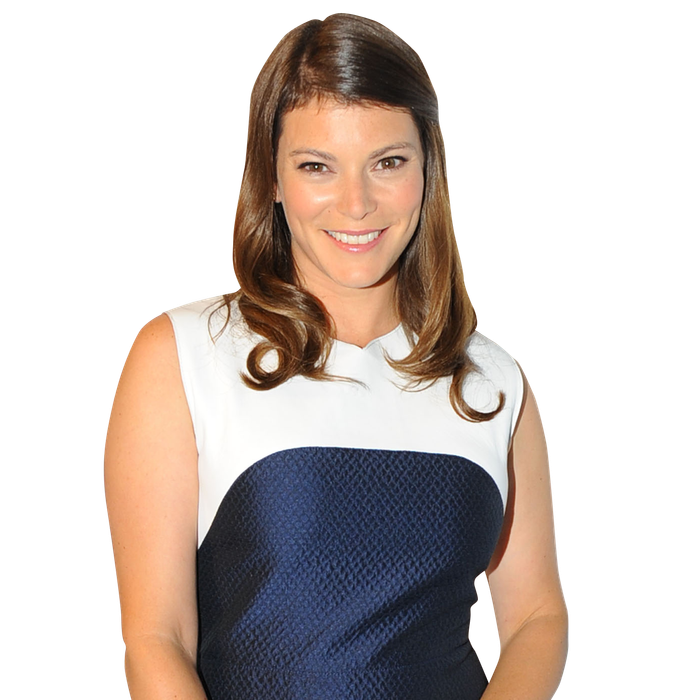 "I am systematically trying to get a show on every cable network in the universe."
Photo: Paul Bruinooge/Patrick McMullan.com
Last night, Top Chef Duels had its premiere at New York's Altman Building, and we caught up with co-host Gail Simmons to talk about balancing the demands of the show with motherhood, Curtis Stone's parenting tips, and Simmons's quest to be on every cable channel in the universe. (Her other show, The Feed, is on the FYI Network.) Read on for the (lightly edited) conversation, and contestants — take note — Simmons never, ever wants to eat pureed meat.

So, in addition to the show, you have a new baby, Dahlia Rae. Is she a picky eater?
Oh no! I mean, so far … she's only been eating for about six weeks, so there isn't that much to be picky about. But so far she has liked everything. My friends kept telling me, "Wait 'til you have to feed her peas; she's gonna hate peas." I made her zucchini the other day — loved it, no problem. Carrots, sweet potatoes. What else has she eaten? Any of the greens — spinach, broccoli. Watermelon. Strawberries. No problem.
Anything she has tried and gotten excited about so far?
I mean, everything! She only eats once a day at this point — she's small — and she's only eating pureed vegetables; she's very limited. She's a vegan except for milk right now — I mean we don't want to make her a vegan but that's all she eats, because that's how it goes when you're a baby. And she's been so excited about all food. Peaches and apricots! The funny thing was watching her eat a peach for the first time, pureed peach, and she had to think about it because there's a tartness, an acidity, same with apricots, and she kind of like gave it this funny face, and then got really excited and starting screaming out loud, "More, more, more!" Except she didn't say that, but those were the noises she was making. But it definitely threw her — she had to think about it, because it was a new experience.
So what is her first meat dish going to be?
What IS her first meat dish going to be!? It's probably going to be pureed, which — the thought of pureed meat is sort of disgusting and amazing — but it will probably be pureed chicken or pureed beef.
Something you would never want to eat?
Yeah! I would never wanted to eat pureed meat!
Do you and Curtis Stone share parenting notes?
Oh yeah! Curtis's wife is expecting right now — their second child — and he already has a 2.5-year-old, and we were working on Top Chef Masters together when he had Hudson, and when we shot this show, Duels, Dahlia Rae was 3.5 months old and she came with me to L.A. to shoot the show. Obviously, she was on set with us every day, and that was right when Curtis was telling people that his wife was pregnant again, so we talked about it all the time. And Lindsay [Price] was on set a couple times, too, and we would compare pregnancy stories and parenting stuff. He was always encouraging me about what to feed her.
What did he tell you to feed her?
Everything! And [he said] to not worry about it and just make it fun and how exciting it is to see humans taste things for the very first time. Also, we talked a lot about how I would be stressed out about juggling work and motherhood, and he was always really cool about talking me through that because he had been through it certainly with Lindsay, and with himself. I mean, Curtis is one of the hardest working guys I know. He opened the restaurant three months before we shot this show, so he had this brand-new restaurant, a child right on the way, and he was shooting a TV show. We shot every day from, let's say eight to eight, and we would leave at eight, go to his restaurant, do a full dinner service, get home at midnight, and wake up at six to spend two hours with his son before he came into work. So he was an inspiration.
How do you balance your role on Top Chef with your roles on all of the various spinoffs?
So my role on Top Chef proper: I sit to the left of Tom at the judge's table, my seat for the last 12 seasons — hard to believe — and I think my role there is really to be the translator and the cheerleader of the chefs, to translate for the audience all of the chef-talk, to be the experienced diner, the editor role. And it's not dissimilar on all of the other shows. But certainly on Top Chef Duels, the major difference is that this show is all about the kitchen. It's all about just cooking in a really intimate setting. Duels is much more casual. Curtis and I just stand with them during the day; we have a guest judge with us and then we sit at a table and eat this meal, but we talk about it with them. It's a very fluid conversation; it's less about judging in a formal way.
And you have another show, The Feed on the FYI Network …
[Gail jokingly tells us to Ssshhh.]
You're becoming a network-spanning television personality.
Yes, yes! Bravo knows. They're not happy, but they know. Nothing they can do about it! [Laughs.]
What's your goal with television? Do you want a show on every network?
Yes. I am systematically trying to get a show on every cable network in the universe. The universe is a small goal. I think it's really attainable.