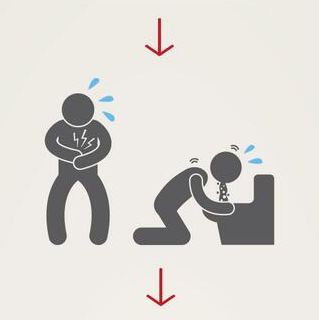 Just don't drop your iPhone in the toilet.
Photo: Payal Patel Designs/Foodborne Chicago
The Chicago Department of Public Health has got itself a nifty Twitter bot that scouts out casual reports of food-borne illness by searching for the words food poisoning — it's presumably too uncouth to go after any downright scatalogical search terms — in tweets geo-tagged to Chicago and its surrounding suburbs. Let's say you tweet from Naperville that your fried rice did you in, for instance: The bot will flag your message and a staff member may respond with a canned reply — "Sorry to hear you're ill. The Chicago health department can help," it goes — along with directing you to an online form where you may file formal complaints.
The DOH replied directly to 270 tweets out of an impressive 2,241 flagged overall in an 11-month period ending this January, and the agency says the tool has been valuable in weeding out restaurants with critical violations. The code for the food-safety bot is also open source, which means it may only be a matter of time before this catches on elsewhere. If that happens, maybe someday there will even be Immodium and Pepto bots ambulance-chasing the food-borne-illness bots, offering queasy and unlucky restaurant patrons discounts on their products.
Twitter Bot Helps Chicago Officials Find Dirty Restaurants [Popular Science]