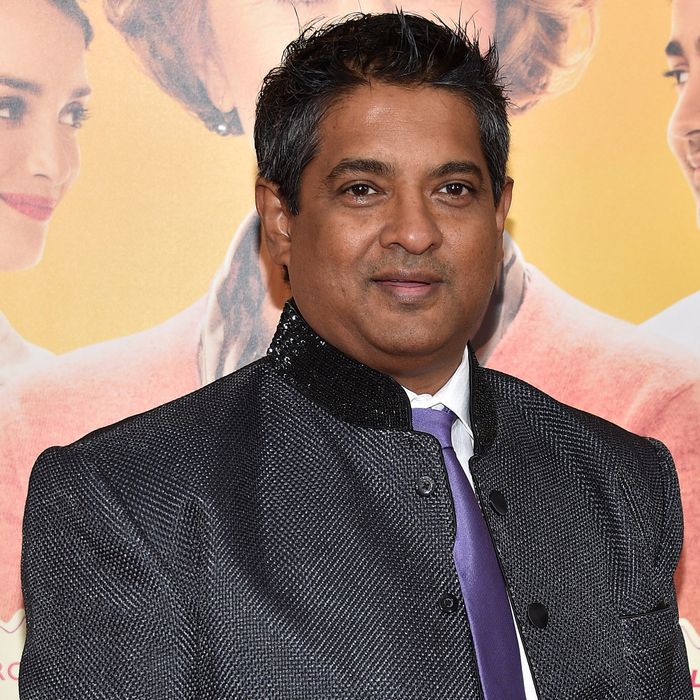 "I'm a very spontaneous chef, so the ingredient has to speak to me before I can cook it."
Photo: Dimitrios Kambouris/Getty Images
All of the food depicted in The Hundred-Foot Journey, the new Helen Mirren film based on the book of the same name, happens to be real. Producers opted for working chefs over food stylists, then decided to bring in the big guns after they started looking at the dailies and found that some of the massive feasts could be a little more convincing. Enter Floyd Cardoz, who was still at North End Grill, Danny Meyer's Financial District restaurant, at the time. Grub Street spoke with Cardoz at the film's world premiere last night at the Ziegfeld Theatre, where the chef talked about not really liking Shackburgers, making food for film, and ditching butter pretty much entirely for his next restaurant project.
So I know you recently left North End Grill and now you're working on a new restaurant in Tribeca. Tell me a bit about that.
White Street! Yeah. So White Street is gonna be on White Street, well, West Broadway and White Street, and it'll be my style of food — new American food with global flavors. That's what I love doing. Using flavors from India, using flavors from Japan, China, Thailand — all over the place. Just to make food exciting, because that's what Americans want. We don't want plain, boring food anymore. It's strange — I was in India, and we were talking about American food, and people were like, "are you going to cook burgers and ribs?" And I was like no, no, no, American food is more than that: It's seasonal; it's local; it's very, very flavorful. So that's what my foods going to be.
How will the cuisine compare to North End Grill?
It's going to be very different. It's going to be more aggressive in the flavoring. North End was more about being a neighborhood restaurant, and this is going to be more about people enjoying the flavors they love. So the gloves are off, and I'm going to cook the way I used to cook. It's not going to be Indian like Tabla, but there's going to be a lot of flavor to the food.
Has the process of working on this movie influenced how you're going to cook at White Street in any way?
Working on this movie has actually showed me what's important to me, and what's important to me is flavor and cooking food that speaks to me. It was very important that the food in the film speaks to me, and this speaks to me, and I'm excited about that.
What about specific dishes that will be on the menu?
That I don't know yet. I'm a very spontaneous chef, so the ingredient has to speak to me before I can cook it. I get asked all the time: What are you cooking? What are you going to cook? and I'm like, be patient, you'll get a menu when I'm ready for it. But it'll be things that I enjoy doing. It's going to be local farmers, local meat, local fish, because that's the way I think we should eat. And it'll be balanced — no butter, no cream, I don't think that's the way to eat. Vegetables, a lot of vegetables, treating the ingredients right.
No butter? Will part of it be vegan-ish?
No! Not vegan, no, there will be some vegetarian things on the menu, but not vegan. There will still be meat and fish, but every dish will have a balance of everything because I think that's the way we need to eat.
And you, of course, have a long-standing relationship with Danny Meyer.
I worked for Danny for 17 years.
What are your thoughts on the whole Shake Shack craze of this summer? With all those experimental burgers from guest chefs, and the very long lines?
I'm not a big Shake Shack fan, so Shake Shack is not for me. I'm not a big burger fan. But you know what, people want to eat burgers and Shake Shack does it right, and Randy Garutti is the CEO of the company — he used to work with me at Tabla — he's a smart guy. I think he knows what he's doing. I think it's all Randy Garutti; I think Randy should get some credit there.
I know you're not a traditional burger guy, but if you could do a twist on a burger, what would it be?
I did a burger at North End Grill that was a short rib burger with onion chutney, mustard, and pepper with onion rings that were spiced. That's the way I'd do a burger. I don't think a plain patty with salt and pepper does it for me. There's got to be flavor in there.
Related: Floyd Cardoz's New One Will Evoke the 'Sophistication and Glamour of Old New York'