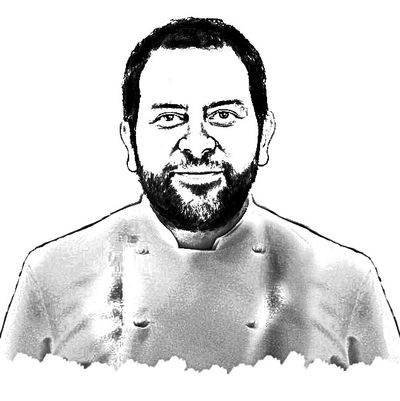 "If I want to do authentic Mexican, maybe I'd stay in Mexico, no?"
Photo: Illustration by Murphy Lippincott
Can a Mexican chef cook Mexican food in New York? That's a question Enrique Olvera has been pondering ever since a pair of investment-banker expats recruited him to become their partner in Cosme, a restaurant they hope will elevate the level—and public perception—of their native cuisine. Olvera seems the ideal candidate: Thanks to the reimagined traditional fare he serves at Pujol, his Mexico City flagship (baby corncobs slicked with coffee mayo and speckled with ants; a "mole madre" he fed, like a mother dough, for 300 days), he has become the standard-bearer for progressive Mexican cuisine, a regular presence on international best-restaurant lists and at envelope-pushing culinary conferences (including his own, Mesamérica).
But Olvera doesn't view himself as a Mexican-food ambassador. Instead, he sees New York as an opportunity to reexamine his style of cooking in a new context, one without historical legacies and ingrained expectations. "Here, you're free," he says. "You have ingredients from everywhere." And to best exploit this terra incognita, Olvera will source raw materials locally, with three key exceptions: Mexican peppers, beans, and corn. Of these, the last might be the most vital, as his kitchen will process variously hued kernels into masa, the foundation of Mexican gastronomy. "That was one of the things that I needed to know I could do before saying yes to Cosme," says Olvera, who plans to serve "single-origin" tortillas alongside the food, to swab the sauce and to stuff with bits of meat and vegetables. "Because without a good tortilla, you can't have a good restaurant. It's everything."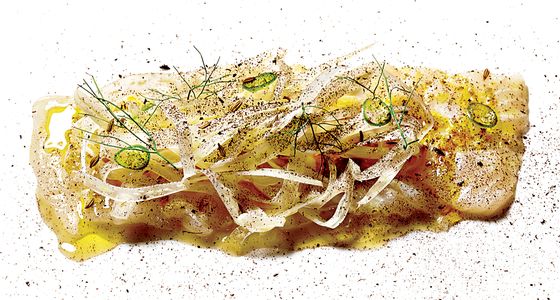 Unlike tasting-menu-only Pujol, Cosme is à la carte, with shareable plates priced between $15 and $25, including a mezcal-and-chile-spiked Manhattan clam chowder and "burrata & weeds" showcasing wild plants. Back home, Olvera's worldwide prominence grew as he dispensed with global influences to look inward, honing a meaningful, playful cuisine from the flavors, techniques, and traditions of Mexico. Now he's looking outward again. "If I want to do authentic Mexican, maybe I'd stay in Mexico, no?" he asks. "I want to do something that is pertinent to New York. I'm in New York. I'm Mexican. Let's see what happens."
Cosme, 35 E. 21st St., nr. Park Ave. S.; 212-913-9659; Sept.
Related:
• Al Pastor Tacos Will Be the Main Attraction at Alex Stupak's Empellon al Pastor
• Maiz Start-up Masienda Supplies Tortilla-Crazed Chefs With Exotic Breeds of Mexican Corn
• A Fall Preview of Mexican Restaurant News
*This article appears in the August 25, 2014 issue of New York Magazine.