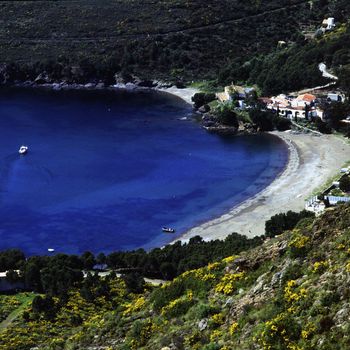 Yo, Ferran, think of the piping plovers for once.
Photo: Carlos Alvarez/handout El Bulli/Getty Images
Spain's Cala Montjoi is the bay above which elBulli was perched and where the restaurant will be reborn in 2015 as a foundation and learning center called elBulli 1846 — in yet another vaguely smug elBulli solipsism, 1,846 was the total number of dishes served at the restaurant. The area isn't just sacred turf for modernist-food folk, though, it's a national park that environmentalists don't want Ferran Adrià's "tourist attraction" despoiling. The project will unlawfully expand elBulli's footprint in a "protected area" by more than 200 percent, argues a Change.org petition with more than 72,000 signatures.
What's more, petitioners believe the parkland is protected by at least four other laws. The foundation, however, is Catalan government–backed; there's even a bill pending to declare elBulli's project in the public interest by arguing the five-time world's best restaurant is inextricably linked to the area. Critics fear this means the government is saying elBulli's spherified olive oil trumps the well-being of Roncus elbulli, a local arachnid named for the place. The opposition apparently tried meeting recently with Adrià, but it ended without "com[ing] to an understanding." They felt maybe he wasn't taking them seriously when he claimed, "How many people do you want to go there every day? If you say 25, then we'll make it 25."