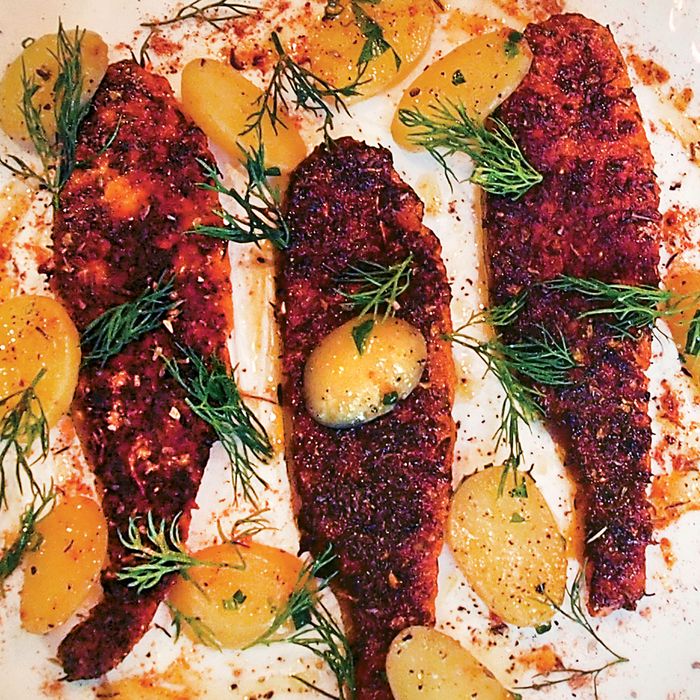 Salmon Maison with potato, dill, and blackening spice.
Photo: Cassandra Rose Tannenbaum/New York Magazine
To those who associate Rich Torrisi and Mario Carbone (of Torrisi Italian Specialties and Carbone) with baked ziti and chicken parm, the chefs' latest project might seem a radical departure. But Dirty French, opening this month at the Ludlow Hotel, is a logical progression for Torrisi, who will be supervising the kitchen. "Rich has been a French chef hiding in an Italian-American chef's body for four years," says partner Jeff Zalaznick. "He trained with Daniel." And the "dirty" bit? That just reflects the trio's aim to funkify and liven up classic cuisine, to infuse familiar dishes with flavors borrowed from far-flung outposts of the French culinary diaspora.
That bit of whimsy explains the presence of Moroccan ras el hanout in the duck à l'orange; the crêpe indochine served with tuna tartare; and especially the influence of New Orleans, evident in Torrisi's interpretations of dirty rice, Creole relish, and even an oysters en brochette inspired by Galatoire's. Most of the meats will be cooked on the rotisserie, except the most obvious one. "We didn't want to jump into the chicken-for-two game," says Zalaznick. Instead of roasting a whole bird on the spit, Torrisi will prepare the poultry in two courses: the white meat in a mustard sauce, served Peking-duck style with crêpes and accoutrements, followed by the confited and lacquered legs.
Côte de boeuf will also be served in stages: first the rib eye itself, then its fatty, flavorful cap, ground, skewered, and charcoal-grilled. The brick-walled, wood-beamed dining room is furnished with red-and-black ostrich banquettes and an antique French carnival mirror, and the vintage bar is home to East Coast oysters, French wines, and Belgian beers. Desserts come courtesy of Heather Bertinetti, the new pastry chef for the entire Torrisi-Carbone-Zalaznick kingdom.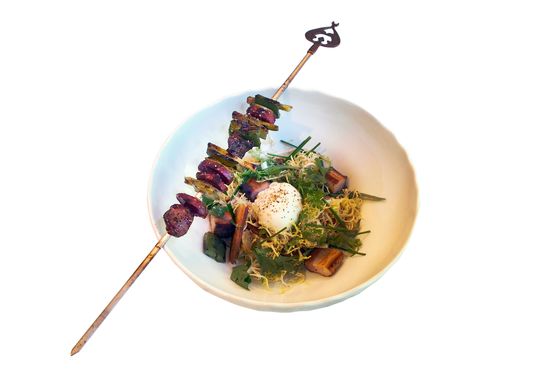 Frisée Aux Lardons with trinity, giblets, and egg.
Photo: Cassandra Rose Tannenbaum/New York Magazine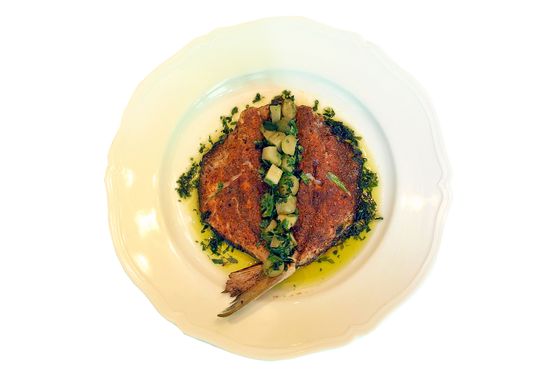 Provençal with porgy, green tomato, and cajun spices.
Photo: Cassandra Rose Tannenbaum/New York Magazine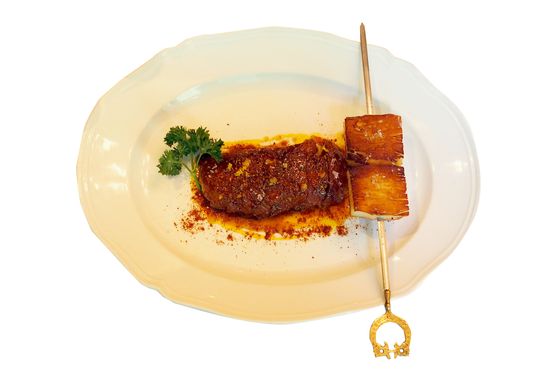 Duck L'Orange with Ras El Hanout and preserved oranges, with a side order of pommes mille-feuille.
Photo: Cassandra Rose Tannenbaum/New York Magazine

Dirty French, 180 Ludlow St., nr. Houston St.; 212-254-3000
*This article appears in the August 11, 2014 issue of New York Magazine.