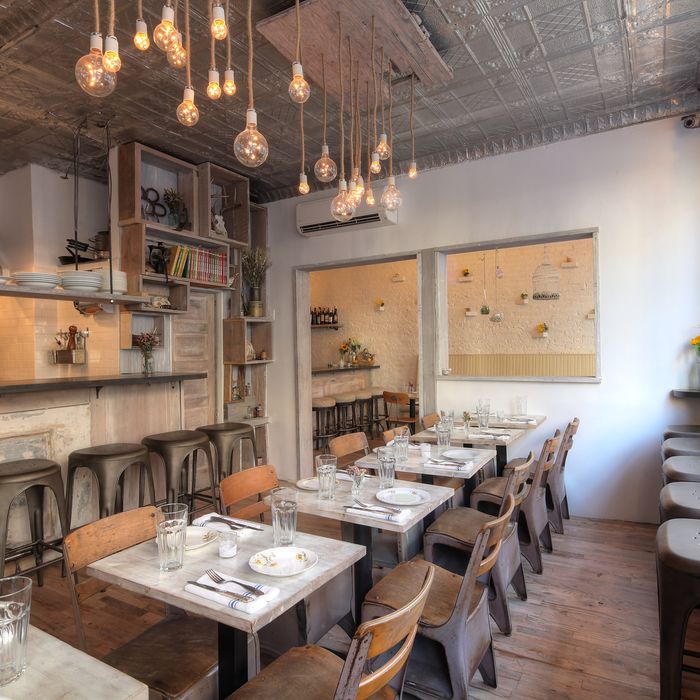 Root & Bone is cleaning up.
Photo: Melissa Hom
This week, Pete Wells reviewed a prix fixe tasting menu in Williamsburg, Delaware and Hudson; Ryan Sutton panned Tavern on the Green; a few critics praised the fried chicken and biscuits and Root & Bone; and Cherche Midi received another glowing review. Read it all, straight ahead.
Pete Wells awarded one star to Delaware and Hudson in Williamsburg, a "restaurant stands out from the pack, though, in part because Ms. [Patti] Jackson draws on the traditions of long-gone Americans who would have been amazed to hear that farm-to-table would become a slogan one day." He's not a fan of all the dishes in the prix fixe menu, but writes, "Ms. Jackson's food doesn't have the buzz-cut professionalism of some restaurant food, which seems to have been produced by Adderall-chewing line cooks who practice their brunoise in front of a mirror while listening to 'Eye of the Tiger.'"
Ryan Sutton is the latest critic to pan Tavern on the Green, with a zero-star review. "Those numbers themselves mean the Tavern is a de facto gastronomic ambassador for the Big Apple, an unfortunate phenomenon for a venue whose $22 mac 'n' cheese is real prison slop," he says. "And when the waiter upsells you into topping it off with salmon — because what's better than oily fish to pair with cheese-y, mushy, pasta — you'll have spent $32 on what is surely one the worst things anyone can eat outside of Rikers."
In Zachary Feldman's review of Root & Bone, he praises the biscuits — "impossibly light yet as buttery and flaky as any baked good we've sampled." He also likes the peach "Caprese" and the fried chicken ("twenty-seven hours' brining in sweet tea lends the meat a sugary background note"), but desserts are a "toss-up."
Christina Izzo also reviewed Root & Bone, as well as Wilma Jean, and awarded each restaurant three stars. On the former: "But when that Dixieland camp is wrangled in, a meal here can be both comfort-food-satisfying and sophisticated"; and the latter: " … a beloved lardcore ode to below-the-Mason-Dixon eats: Seersucker's weekly fried-chicken special is a Wilma menu mainstay and for good reason."
The New Yorker's Hannah Goldfield visited the Pavilion Market Cafe in Union Square, and, for the most part, enjoyed it. "Across the menu, the food, though not particularly adventurous, is much better and fresher than you might expect from a restaurant in one of Manhattan's most trafficked hubs," she writes. But note: The restaurant can get a bit loud and scene-y.
Stan Sagner gave Cherche Midi a three-star review, praising the Pot de Fromage ("best fondue you've ever had"), "flawlessly roasted" chicken breast, and the chocolate soufflé — "Cresting well above the rim of its ramekin, this ethereal, intensely chocolaty cloud first announces its arrival with a heady aroma."