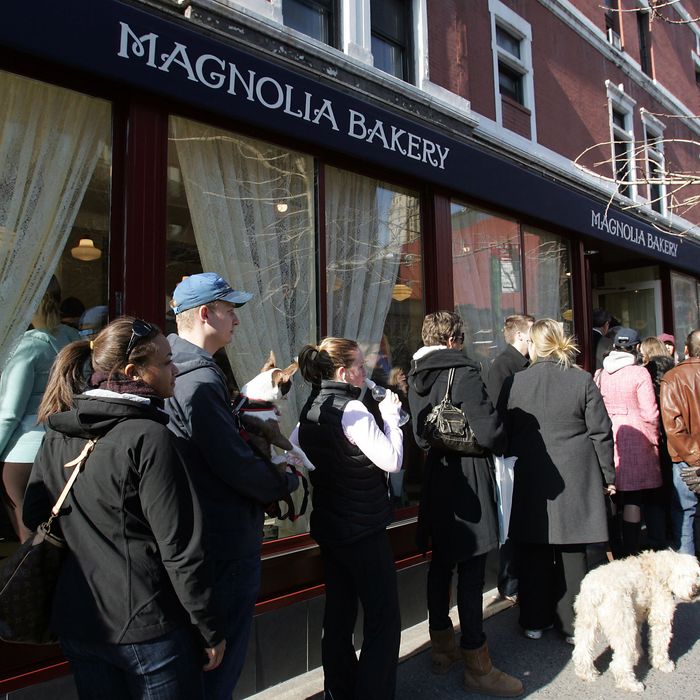 Look at all those Carrie Bradshaw fans.
Photo: Rich Press/Bloomberg News/Getty Images
Jason Diamond has moved on to a somewhat more satisfying career, but it turns out the Men's Journal editor was the Anthony the Cronut Bouncer of the aughts, dutifully serving as one of Magnolia Bakery's doorkeepers. In an essay for the Billfold, he shows very little nostalgia for those cupcake glory days — to use his words, he would've "rather been doing just about anything else."
Diamond says management stuck him on door duty because he's 220 pounds with a "fair amount of body hair." The bouncer maxim back then was "Sometimes people act like children. So you have to treat them like children." He adds they all straight-up "hated the customers equally" and "felt nothing but white-hot rage every time one of them said, 'Aren't you getting so fat working here? I would eat everything!'" His fleeting fit of sympathy seems to have been apologizing to Lou Reed when somebody blasted "Sunday Morning" and the rock legend "stormed out of the bakery."
Probably the saddest news, however, is for the out-of-towners who may or may not have traveled to NYC for the purpose of acquiring a Magnolia cupcake: "On weekends, buses filled with people on some Sex in the City tour would stop and park outside, let the tourists out to take pictures, then pass out cupcakes that we claimed were from Magnolia, but were actually from one of the bakery's offshoots." The horror.
My life As a Magnolia Bakery Cupcake Bouncer [Billfold]