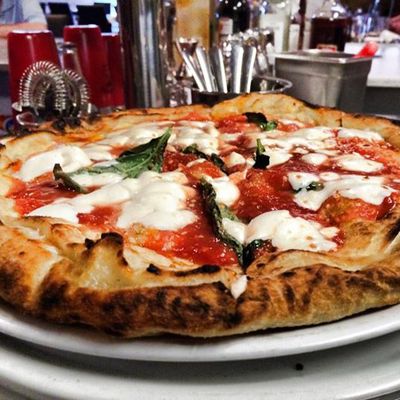 A pie at La Piazza Locale.
Photo: La Piazza Locale/Twitter
Chipotle has branched out to Asian food with its growing ShopHouse brand, and the chain officially set its sights on the fast-casual pizza business in December, when it announced it would spin off new locations of the Denver-based Pizzeria Locale. The one potential thorn in the side of implicit pizza world domination, apparently, was the completely unaffiliated La Piazza Locale in Phoenix, Arizona, named after owner Justin Piazza. Lawyers for the burrito chain reportedly threatened to sue Piazza for copyright infringement, because "Piazza" apparently sounds and looks too much like "Pizzeria," so the Phoenix business will now change its name to avoid a legal battle with a projected six-figure budget.
"It's the big guys putting the thumb on the small guy," owner Justin Piazza, who points out that "locale" just means "local" in Italian. His lawyers told him that he'd win the infringement case — "it's my name" — but that the legal process might have a $100,000 price tag and most certainly would take him away from his San Marzanos and buffalo mozzarella for long periods of time. The upshot would be that Piazza could keep the name on his pizza place. Instead, he took a $10,000 settlement, is getting new signs, and is building a new website. Starting September 1, La Piazza Locale will be called La Piazza Phx, which doesn't really roll off the tongue.
Chipotle lawyers force La Piazza Locale to change name [AZ Central]