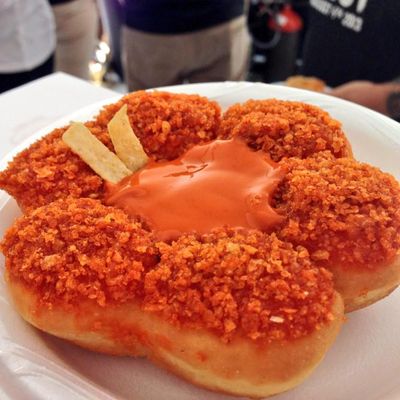 We're not sure what you're supposed to do with those two tortilla strips, but it's a nice touch.
Photo: As Eaten On TV/Twitter
While Burger King moves forward with its bid to buy Tim Hortons for $11.4 billion and its relocation to be closer to the constitutional monarchy up north, the Canadian chain has taken a very deep dive into fast-food mash-up territory with this "Buffalo Crunch" doughnut, now being served exclusively at the New York State Fair through Monday. It consists of a pull-apart yeast doughnut that's dunked in Buffalo sauce and crusted with crushed-up chips. It combines a staggeringly high number of junk-food influences (Buffalo sauce, tortilla chips, doughnuts) while still managing to make sense. The corn-chip strips in the center are decorative, and the doughnut comes in mild and hot varieties — mild is "toned down" with Ranch dressing. It costs $2.

Is this the prototype for the future? Yesterday, Market Watch speculated that the newly merged chains could launch the first mainstream doughnut burgers, where the traditional sesame bun is subbed out for a grilled doughnut. That may be true, but if either chain put a fried chicken cutlet and a melted slice of industrial Jack on this thing here, we're pretty sure it'd sell out even faster.

Related: Openly Royalist Burger Chain Becomes Canadian Citizen [Daily Intelligencer]
Related: Burger King May Buy Tim Hortons and Move Operations to Canada