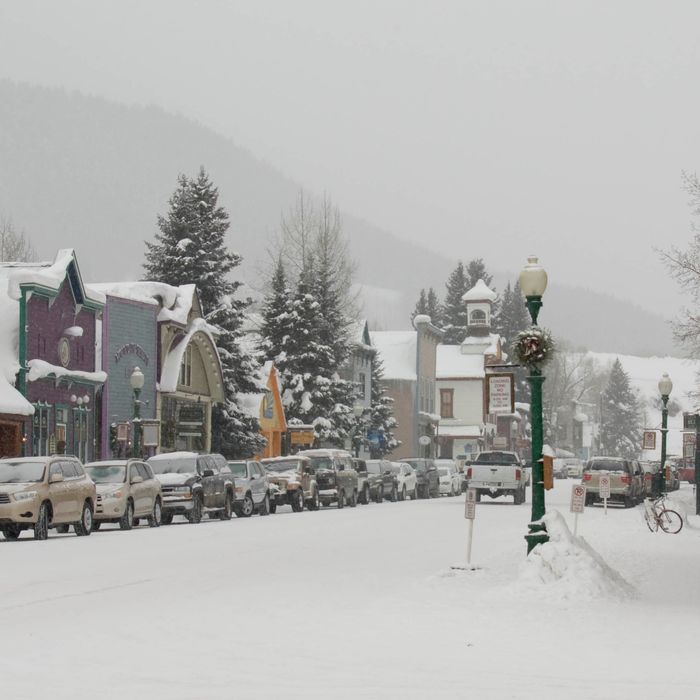 Imagine this, but everything painted blue and filled with horrible beer.
Photo: Corey Leopold/Wikimedia
Anheuser-Busch has already attracted more than 100,000 would-be revelers with its "Up For Whatever" campaign, which will culminate in a huge party in a tiny town that's been redecorated as a "fantasy Bud Light-drinking community." Its location is still secret, but residents of Crested Butte, a craft-beer stronghold that's also called the "Wildflower Capital of Colorado," have essentially just been informed that Bud Light will bring its viral festivities to them. If true, more than 1,000 winners — that's 75 percent of Crested Butte's full-time population — will descend on the city for a huge party that takes place from September 5 through 7. Oh, and the beer company says it needs to paint everything the same shade of electric blue as its bottles.
The temporary transformations are referred to, inauspiciously, as "augmentations" in planning documents, and the town's 100-page briefing packet was discussed in detail at a packed public hearing held last night. "Elk Avenue and its lampposts are to be fenced off and painted Bud Light blue," the Denver Post reports, and other floated plans include a "huge Twister game" for the hundreds of out-of-towners, performances from bands, mystery celebrity cameos, more blue stuff, and lots of buskers. A commercial will be filmed, and all of the town's restaurants and pop-up bars will be limited to pouring Bud Light for two days, which sounds like some higher-numbered circle of hell.
The event does have supporters, but more than 50 residents last night expressed anger at officials who've kept the beer company's plans hush-hush since the spring, when strangers arrived "crawling around bars with measuring tapes and check lists." Crested Butte will net a reported $250,000 from renting itself out, which some locals feel is way too little. The owner of the local bagel shop tells the Post he's so incensed by the Bud Light invasion that he's vowed to tear down any blue fencing that goes up in front of his business.

Is Crested Butte up for Bud Light's "Whatever" campaign? It just might be, but some worry [Denver Post]