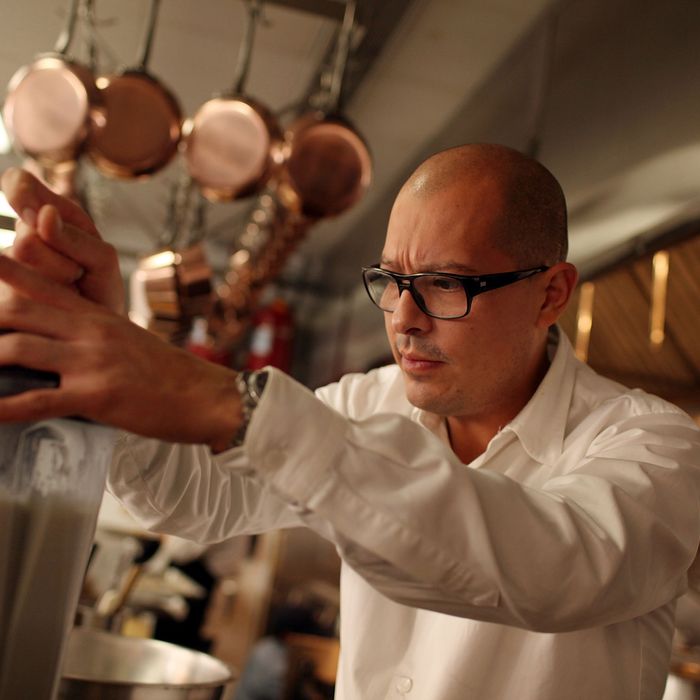 César Ramirez will indeed run the show at the upcoming restaurant.
Photo: Spencer Platt/Getty Images
After many months (or is that years, or maybe decades?) of anticipation, the Chef's Table at Brooklyn Fare Manhattan is on the brink of opening, according to owner Moe Issa. "We're just waiting for two chandeliers," he says, before embarking on friends and family tastings. He revealed a few fresh details about the long-awaited Manhattan counterpart to Downtown Brooklyn's triple-Michelin-starred Chef's Table — namely that Jared Sippel, formerly of Boulder's Frasca Food & Wine, will no longer be the chef. Instead, César Ramirez will run both operations, with his second-in-command from Brooklyn eventually assuming more direct control.
In order to concentrate on the Manhattan opening, Issa will close the Brooklyn restaurant for two weeks, and then reduce service there from five to four nights a week, making the already scarce seats even harder to get.
After that Ramirez will split his time between the boroughs, spending two days in Manhattan and four at his home base. As for Manhattan dinner service itself, the details are still being finalized. But Issa says he'll open six nights a week, with a prixe fixe only tasting menu of probably around seven courses, with "more flexibility and a little bigger portions" than in Brooklyn. (Lunch and brunch will most likely be a less time-consuming three-course prix fixe.)
The capacity is larger than Brooklyn, with 24 seats at the bar and 14 surrounding it, all of them affording a view of the chefs at work, plus a 12-seat private dining room, and an enclosed, heated outdoor area, which Issa doesn't expect to utilize fully until next summer.
Related: 36 New Restaurants Opening This Fall