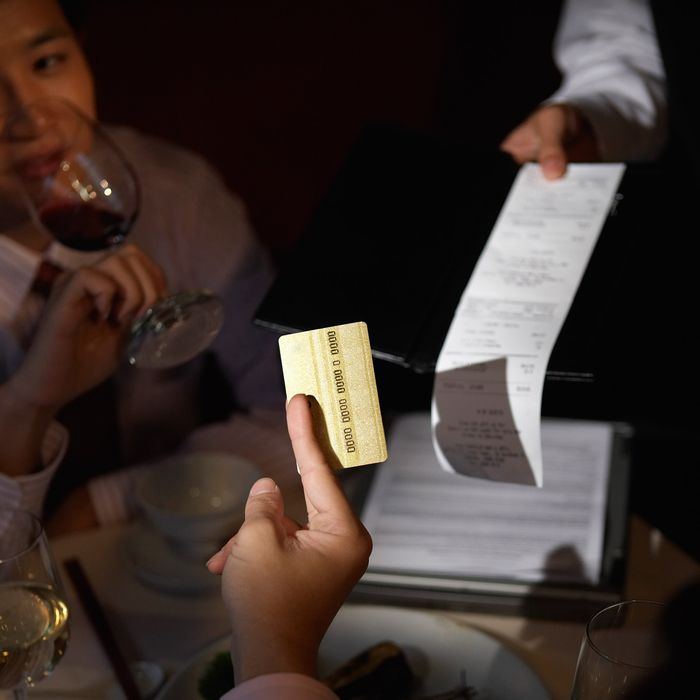 Do you need directions to an ATM?
Photo: Fuse/Getty Images
Minnesota restaurant owners are really not triumphing in the face of the state's minimum-wage increase, from the conspicuous "min wage fee" on River Oasis Cafe's bills, to this baffling self-destructive measure: Blue Plate Restaurant Company's bright idea is to take 2 percent of servers' tips to the house every time customers pay by credit card, and it's used at its eight Twin Cities–area restaurants to offset employees' state-mandated 75-cent raise.
The idea, presumably, is to try to save the restaurant some money by offsetting merchant service fees with waitstaff subsidization, and the absolute worst part is that owners David Burley and Stephanie Shimp buried the announcement while spuriously congratulating workers on their "well-deserved raise" in a memo. "When this raise shows up in your paycheck," their memo says by way of ironic segue, "we want it to be visible in the warm welcome and bright smile you bring to our guests."
Workers understandably aren't thrilled at the deduction, which is "estimated," no less, at that 2 percent figure. "It's their choice to accept credit cards, and the customers' choice to pay with them, it's not up to me," one explained. Blue Plate's octet of eateries isn't alone, either; Parasole Restaurant Holdings, a popular Twin Cities restaurant group that did $30 million in sales last year, also implemented the practice. After absorbing the 2 percent surcharge, employees will basically be paying 30 cents of that wage increase back to the house, leaving a gain of 45 cents per hour.
Perfect Storm Rattles Restaurants, Wait Staffs [Star Tribune]