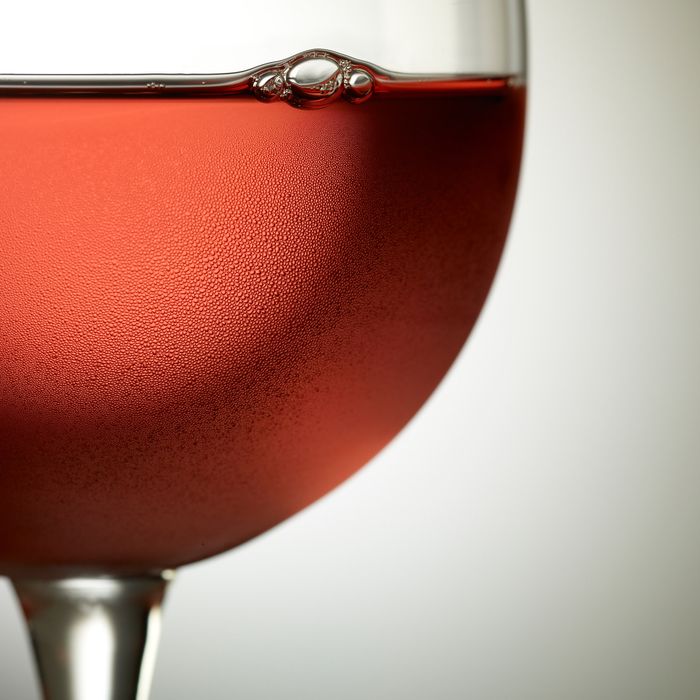 Pink wine, all the time.
Photo: Mark Swallow
The sad, hard truth is that summer's days are numbered: Sure, in June, you could throw back a lobster roll, a piece of strawberry pie, and a glass of whatever. It seemed the warm weather would last forever. But now, with a mere month go to before Labor Day, it's time to make it count — and that means you should also be drinking as much rosé as possible before summer's over. It's a mission that's as much about quality as it is quantity, so it's a good thing there are plenty of excellent, high-quality pink wines available right now. "There's so much to love about them!" says Giancarlo Luiggi, the wine director at Heritage Wines in Fort Greene. "The wines are refreshing and thirst-quenching, and perceiving the play of light through a glass of rosé is one of the real delights of summer." Grub asked Luiggi to give us his favorite selections at a dozen buzzy restaurants (plus his favorite bottle at his shop), ensuring you'll be able to order right, no matter where you go.
Bar Sardine
The Wine: Chateau Pradeaux Bandol Rosé (Mourvedre/Cinsault), 2013
Price: $70 per bottle
"This is a remarkable estate in Bandol, and a must-taste for a Provencal rosé enthusiast. A bold, robust, graceful, and complex wine."
Corkbuzz in Chelsea Market
The Wine: Edmund St. John "Bone Jolly" Rosé Sierra Foothills, California (Gamay), 2013
Price: $14 per glass
"Edmund St. John is one of the preeminent winemakers in the U.S. There's a remarkable balance of fruit, focus of acidity, and overall liveliness in the wine that makes this rosé thoroughly enjoyable and refreshing."
Estela
The Wine: Olivier Horiot "Seve, En Barmont" Extra-Brut Rosé (Pinot Noir)
Price: $115 per bottle
"A positively enchanting wine, dense but lively and fresh — from Pinot Noir planted on the same chalky soil that is found in Chablis and Sancerre."
Bar Primi
The Wine: Muri Gries Rosato, Alto Adige, Italy (Lagrein), 2013
Price: $12 per glass; $45 per bottle
"This wine hails from Alto Adige in northern Italy, and is made from an indigenous grape to the region called Lagrein. It has a supple and round mouthfeel, and delightful acidity.
Claudette
The Wine: Pichard and Jourdan Chinon Rosé, Chinon, France (Cabernet Franc), 2013
Price: $14 per glass
"A lovely, light rosé with soft strawberry notes on the nose and a fine minerality. Pair with the butter-poached shrimp or the wrapped red snapper."
Charlie Bird
The Wine: Arnot Roberts "Lake County" Rosé (Touriga Nacional/Tinta Cao), 2013
Price: $60 per bottle
"A small-production rosé (1,000 cases made) from a remarkable winery in the North Coast of California, made from two Portuguese grapes, Touriga Nacional and Tinta Cao. This producer makes consistently expressive, artisanal wines."
élan
The Wine: Viñátigo RosadoTenerife, Spain (Listán Negro), 2013
Price: $12 per glass
"This wine hails from Tenerife, the largest of the Canary Islands of Spain. It is grown on volcanic soil that gives the wine terrific concentration alongside compelling strawberry fruit. In my mind, the Canary Islands are producing some of the most exciting wines coming out of Spain."
The NoMad Bar
The Wine: Domaine Tempier Rosé Bandol, Provençe, France (Mourvedre/Grenache/Cinsault/Carignan), 2013
Price: $95 per bottle
"This is an iconic winemaker in France, making benchmark wines in Provence. Simply put, if you have the opportunity, taste this wine!"
Racines
The Wine: Egly Ouriet Rosé Brut Champagne, Champagne, France (Pinot Noir/Chardonnay)
Price: $169 per bottle
"A remarkable expression of Rosé Champagne, full of grace, depth, and clarity."
Pearl & Ash
The Wine: Franz Strohmeier "Schilcher Frizzante," Steiermark, Austria (Blauer Wildbacher)
Price: $53 per bottle
"This is a special wine from one of Austria's remarkable natural winemakers, Franz Strohmeier. It's a Frizzante style (lightly effervescent), the color is a beautiful orange/copper, and the wine is both light and delightfully creamy, showing refreshing red fruits. This is a very small production winemaker, so taste some while it's still around!"
Meadowsweet
The Wine: Ametzoi Rubentis Txakoli de Getaria, Basque country, Spain (Hondaribi Zuri/Hondarribi Beltza), 2013
Price: $60 per bottle
"I jump at the opportunity to taste wines from Basque country in Spain. This rosé is made from two indigenous grapes to the region and bottled with a very slight effervescence. Pair with oysters, octopus, or pan-roasted cod."
The Ludlow Lobby Bar
The Wine: Domaine Saint-Honore Côtes de Provence Rosé, Provence, France (Grenache/Syrah/Cinsault), 2013
Price: $13 per glass, $59 per bottle
"Here's an example of classic (and affordable!) Provencal rosé. It's light and refreshing, shows a pale salmon color in the glass, and is clean and lively on the palate."
Bonus: Heritage Wines
The Wine: Clos Venturi Rosé, Corsica, France (Sciaccarellu), 2013
Price: $40 per bottle
"This is my favorite rosé this season! It's lean, clean, and angular; the color in the glass is bright ruby red; the nose redolent of fresh, red berries, and the palate is mouthwatering and refreshing. A true gem this summer!"