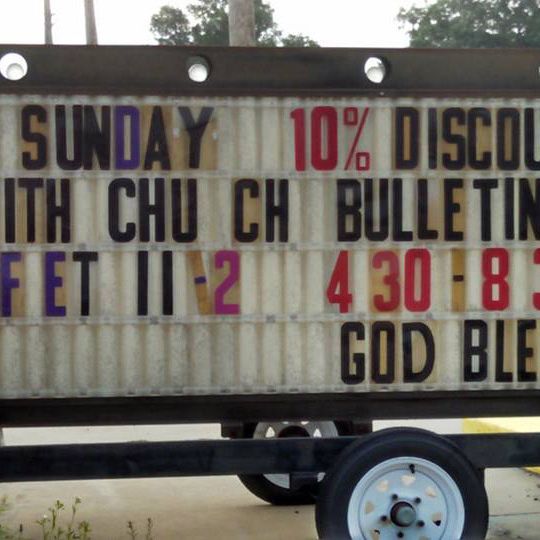 A sign from the heavens?
Photo: Bailey's/Facebook
Central Arkansas churchgoers craving a budget-friendly Sunday buffet should beat it to Bailey's Pizza while there's still a 10 percent church-bulletin discount for the taking. Based on this sign, we're going to guess that the savings amounts to a couple of bucks, tops, but still: Steven Rose, the owner of the month-old pizzeria in the town of Searcy doesn't see the potential issues that might stem from mixing organized religion and check averages (even though these things never end well), but a nonprofit that looks out for these kinds of things did, and they pointed them out.
The Freedom From Religion Foundation fired off an angry letter suggesting that, like the "praying in public" discount over in North Carolina, Bailey's offer discriminates against non-churchgoers and is a violation of the Civil Rights Act. Rose says he doesn't plan to respond, or, for that matter, phase out the discount. He points out that there's something for everyone at Bailey's, including seniors, students, veterans, and the local news reports suggest he's adding more categories to get more people to try the salad bar and thin-crust pies. Maybe he'll add a discount for atheists? After all, he's just added a sign that says, "All are welcome," and he can't get in trouble for telling customers to have a "blessed day," as he does, apparently, often enough already.
Searcy restaurant amid controversy for discrimination [THV11]
Related: Restaurant Ends 'Praying in Public' Discount After Public Backlash