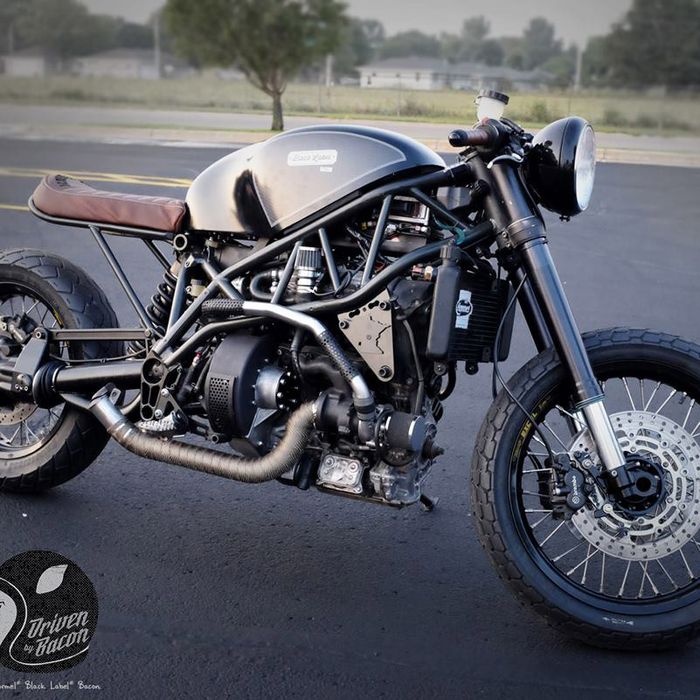 Now if someone would only invent a pig-up truck.
Photo: Courtesy of Driven by Bacon
Hormel Foods has built the world's first bike completely powered by bacon grease biodiesel. When mixed with other compounds, a pound of bacon grease renders out to make a gallon of "pig fuel" that produces, as a by-product, the sweet smell of bacon in the motorcycle's exhaust. The bike gets 75 to 100 miles per gallon, which at $3.50 a gallon isn't bad, and naturally, this whole thing rolls with a phalanx of marketing gimmickry, including a special hashtag and a Hormel-financed documentary to chronicle its cross-country voyage.
The lucky driver of the pork motorcycle is described as a "bacon lover," and as is custom with these things, the trip across the U.S. sounds like it will be a journey of self-discovery and lard. The crew is looking to connect with kindred bacon fans, noting, "we're obviously bacon to the core."
The fact that the bacon grease biodiesel "has no hazardous waste materials" is also obviously a big selling point. "If there were a bacon biodiesel tanker spill in the ocean, the fuel would be safe and mouthwatering fish food," its creators say, claiming the bike is "nearly carbon-neutral."
Driven by Bacon [Official site]
Bacon-Powered Motorcycle Departs Austin [KAAL]