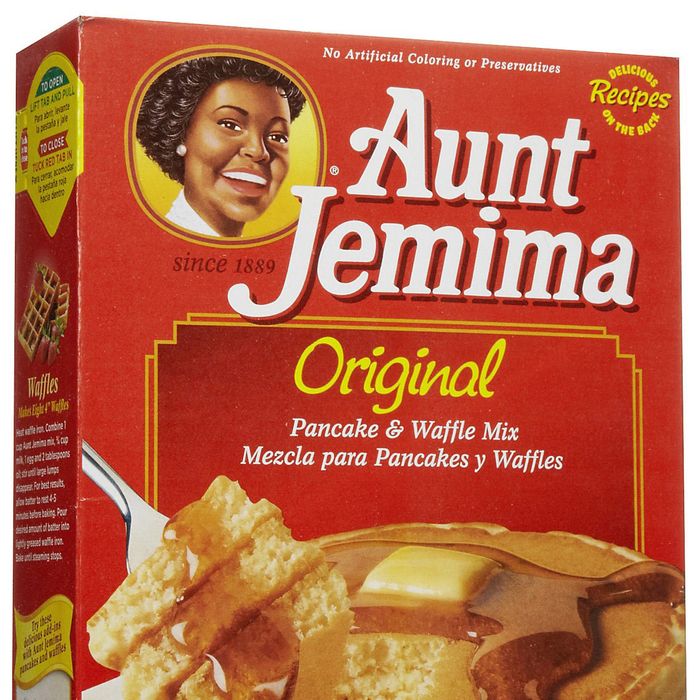 Today's box, allegedly featuring the likeness of Harrington's daughter.
Photo: Courtesy of Aunt Jemima
The family of Anna Short Harrington, the pancake maven Quaker Oats brought on long ago to give life to "Aunt Jemima," is suing the company alongside current and former parent companies PepsiCo, Pinnacle Foods, and Hillshire Brands for refusing to pay a "fair share of royalties" from 60-plus years of ready-made mix and merchandise sales. The lawsuit estimates those royalties total $2 billion, or roughly the equivalent of 13 trillion-gazillion silver-dollar pancakes.
Harrington first appeared on the box in 1935; two years later, the suit alleges, Quaker Oats trademarked her likeness without proper compensation, then exploited the family again in 1989 when it allegedly swapped Harrington's face on the box and in ads — many of them awful, racist, or both — for that of her youngest daughter's. Quaker Oats counters it never actually employed her, yet the lawsuit claims that Harrington's death certificate suggests otherwise. The family explains they've come to collect now because it wasn't until last year that they learned of the 1937 trademark. In a statement, Quaker said it had no comment but added that it "does not believe" the lawsuit has merit.
'Aunt Jemima' heirs file $2 billion lawsuit against Pepsi and Quaker Oats [Chicago Tribune via First We Feast]