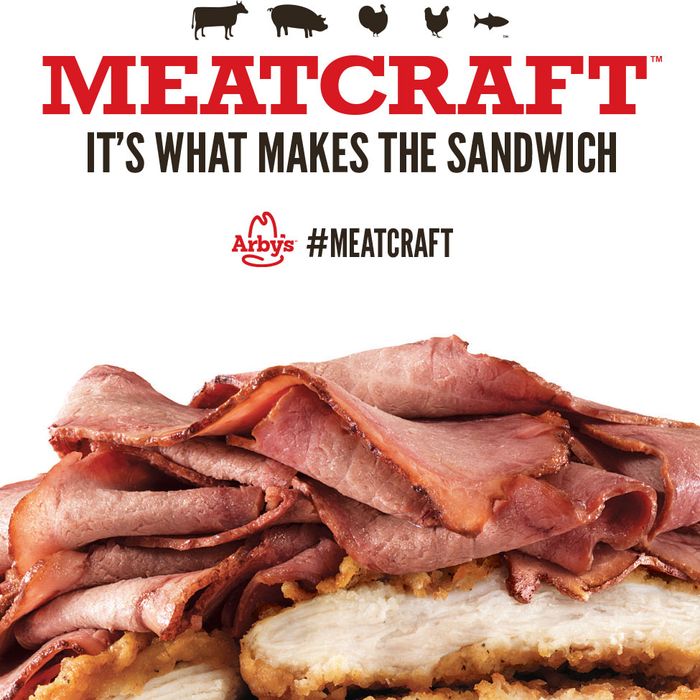 Real mountains are slightly more heart-healthy.
Photo: Courtesy of Arby's
If Arby's is diabolically plotting something bigger than depleting the country's strategic brisket stocks, here's proof in the form of a $10 "Meat Mountain," an off-menu monstrosity whose name says it all. Everybody knows Arby's makes roast beef, though many now know its barbecue brisket because of those astoundingly long commercials, too. The origin story of this sandwich, if you believe it, began with the chain trying to alert customers to the fact that it serves other kinds of meats.
To that end, the chain asked managers to put up posters displaying its meats stacked helpfully like geological rock layers. However, in a world desensitized to kitchen-sink-food atrocities, customers just interpreted the posters as a menu suggestion. "People started coming in and asking, 'Can I have that?'" Christopher Fuller, an Arby's VP, tells the Washington Post. The answer, of course, was yes, absolutely. Now 10 bucks scores you this: two chicken tenders, 1.5 ounces of roast turkey, 1.5 ounces of ham, a slice of Swiss cheese, 1.5 ounces of corned beef, 1.5 ounces of brisket, 1.5 ounces of Angus steak, a slice of cheddar, 1.5 ounces of roast beef, and 3 bacon half-strips. It's apparently so huge, no packaging at the store can even begin to contain it.
The $1 Meat Mountain from Arby's: It's Exactly What It Sounds Like [WP]
Related: How Arby's 13-Hour Brisket Ad Ruined Barbecue for the Rest of US