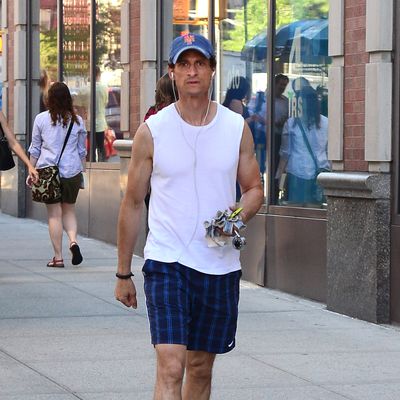 He's got a sustainable food mission in Queens.
Photo: Raymond Hall/GC Images
Anthony Weiner's brother Jason is a co-proprietor of Almond in Flatiron and its original Bridgehampton location, and, we now know, weirdly, the former U.S. representative has some strong opinions about the city's bagel scene, so perhaps it's only fitting that he's embarking on a restaurant project. "Rockaway Restoration Kitchen" is described as a "healthy, sustainable restaurant in a hard luck community to provide training, on-the-job apprenticeship and placement in the culinary and food service sector for unemployed New Yorkers." The project, which Rockaway Times says is in its early developmental stages, is now looking for an executive director.
Everything known indicates the project will combine a sustainable restaurant component with an educational one, like a culinary school with an attached restaurant. The politician and former mayoral candidate was the basis of several real-life hot-dog-related joke business at the height of his multitiered sexting scandals, so Weiner's next role probably won't attempt to unseat Nathan's Famous as New York's prevalent seaside fast-food operation.
Instead, the endeavor will reportedly serve "locally sourced food that satisfies the hunger of Rockaway residents, attracts visitors and serves up dignity and self-sufficiency by serving as a hands-on training ground to provide skills, real experience and job placement in the culinary industry." Weiner as the next Alice Waters, but in Rockaway? We're definitely intrigued.
Kitchen patrol: Anthony Weiner making plans for Rockaway restaurant [Rockaway Times via WP]