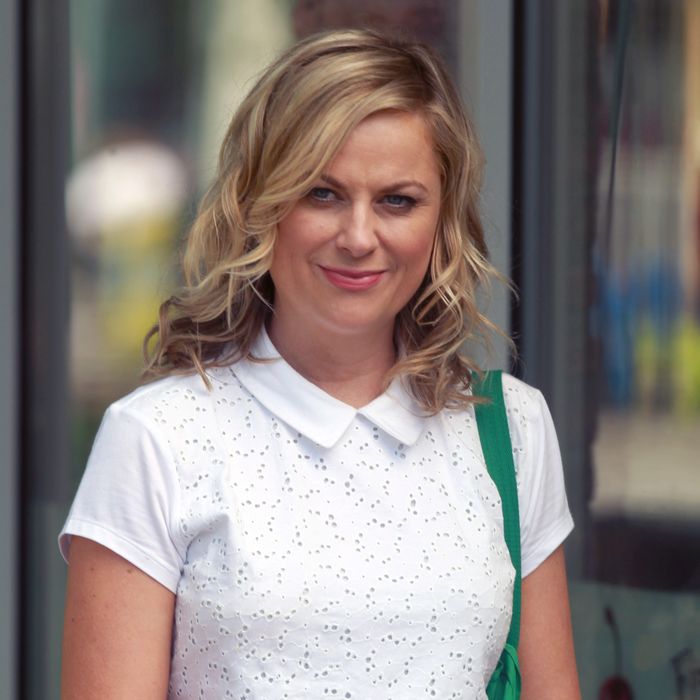 She also dined with Aubrey Plaza and Rosie O'Donnell.
Photo: Steve Sands/GC Images
In this week's installment of Celebrity Settings, the stars fled the city for the Hamptons, as expected: Steven Spielberg had breakfast at Babette's, Julianne Moore ate with her family at the Hideaway, and Michael Strahan dined at the Chinese restaurant Red Stixs. In Sag Harbor, Paul McCartney showed off his dance moves at the yogurt joint BuddhaBerry. Read it all, straight ahead.
Babette's: Steven Spielberg had breakfast in East Hampton. [Page Six/NYP]
Bâtard: LeAnn Rimes was at Drew Nieporent's new restaurant in Tribeca. [Page Six/NYP]
BuddhaBerry: Paul McCartney danced to "Can't Buy Me Love" at the yogurt shop in Sag Harbor. [Page Six/NYP]
Cherry Izakaya: Scarlett Johansson attended the opening of Williamsburg's new Cherry outpost, sharing dumplings with her fiancé and a few friends. [People]
Dos Caminos: Heather Graham ate in Soho. [Page Six/NYP]

Fresco by Scotto: Meredith Vieira dined in midtown. [Page Six/NYP]
Horchata: Southern rock band Alabama Shakes had brunch in the West Village. [Page Six/NYP]
Isabella's: Harry Potter actor Alan Rickman ate lunch on the Upper West Side. [amNY]

Junior's: LL Cool J dined in Brooklyn. [Page Six/NYP]
Ktchn: Tony winner Lena Hall ate in Hell's Kitchen before a performance. [Page Six/NYP]
Madiba: Lupita Nyong'o ate in Brooklyn. [Page Six/NYP]
Mozzarella & Vino: Supermodel Naomi Campbell lunched with her boyfriend. [Grub Street]
Red Stixs: Michael Strahan had dinner with friends. [Page Six/NYP]
Sant Ambroeus: Amy Poehler, Orange Is the New Black's Natasha Lyonne, Aubrey Plaza, and Rosie O'Donnell had dinner together in Soho. [Page Six/NYP]
SD26: Michael Douglas dined in the Flatiron district. [Page Six/NYP]
The Hideaway: Julianne Moore was with her husband, daughter, and her daughter's friend in Montauk. [Page Six/NYP]