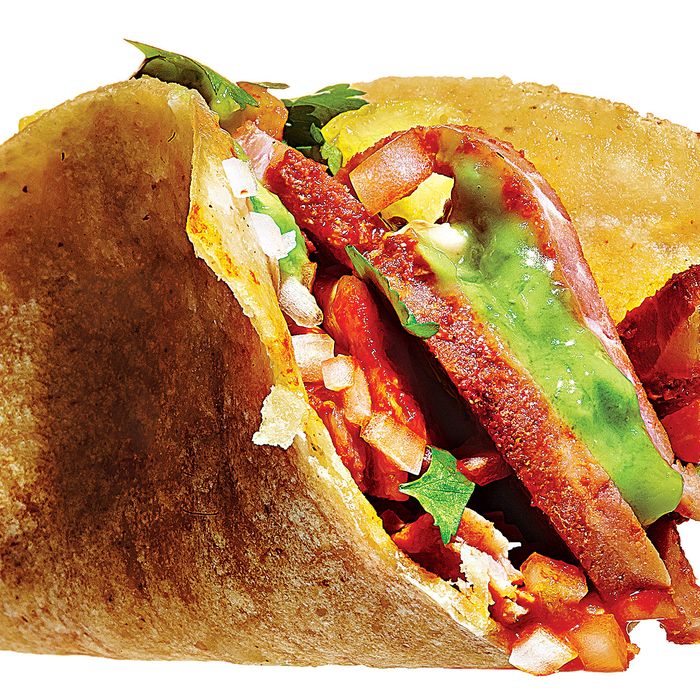 Photo: Bobby Doherty/New York Magazine
When former wd~50 and Alinea pastry chef Alex Stupak left the world of thermoreversible hydrocolloids and liquid nitrogen to open his first of two Empellón Mexican restaurants, he wasn't thinking too hard about tacos. "I really didn't have opinions going into it," he says. Four years on, that's changed. In fact, Stupak has hashed out a taco theory of sorts that postulates, in sum, that taco greatness is best achieved by specialization in a particular taco style. Also: Tacos served in fancy restaurants, instead of in taquerías or on the street, are, like Amish people in Times Square, outside their ideal and natural habitat.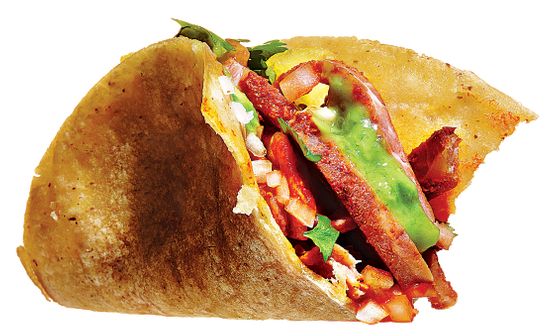 And so, next month, we have Empellón al Pastor, Stupak's most casual place to date (he calls it a bar and tortilleria), hard by the western entrance of Tompkins Square Park and situated in the corner space that once housed the punk-rock dive Alcatraz. It's a lot of firsts for Stupak: open kitchen, no reservations, paper plates, disposable cutlery, five micheladas (including one devised by Wylie Dufresne), and no desserts. The idea is to strip everything down to the bare minimum, both to keep costs low and to remove all potential obstacles between taco and customer. You place your order, get a number, grab a seat, then someone brings you the grub. The menu is short: a few tacos de guisados (plus DIY lamb-barbacoa ones), five sides, and guacamole. But the menu is largely irrelevant, at least according to Stupak's Theory of Tacotivity. If you are at Empellón al Pastor, you're there to eat the taco al pastor—Stupak's favorite style of taco, and one he spent the better part of a recent Mexico City sojourn analyzing, scrutinizing, comparing, and devouring.
As someone fascinated by the concept of authenticity and culture, Stupak is intrigued by the odd history of al pastor: The shawarmalike slivers of pork shaved off a rotating spit are thought to have been introduced to Mexico by Lebanese immigrants. "It's completely entrenched in indigenous fusion," says Stupak. It doesn't hurt, either, that it's delicious—the crisp bits of fatty flame-charred meat, the cooling sweetness of the pineapple, the piquancy of the salsas, and the fragrance of the cilantro all wrapped up in a hot, pliant corn tortilla. That's the tortilleria part: After defaulting to flour tortillas at his other restaurants, Stupak has invested in a custom grinder from a California tortilla-equipment guru and will be nixtamalizing and grinding Indiana corn for his own housemade tortillas—part of a growing trend among the city's rising tacoscenti. To relinquish his precious al pastor's fate to anything less would be heresy.
Empellón al Pastor, 132 St. Marks Pl., at Ave. A.; no phone yet; Sept.
Related:
• Enrique Olvera to Serve "Single-Origin" Tortillas at Cosme
• Maiz Start-up Masienda Supplies Tortilla-Crazed Chefs With Exotic Breeds of Mexican Corn
• A Fall Preview of Mexican Restaurant News
*This article appears in the August 25, 2014 issue of New York Magazine.