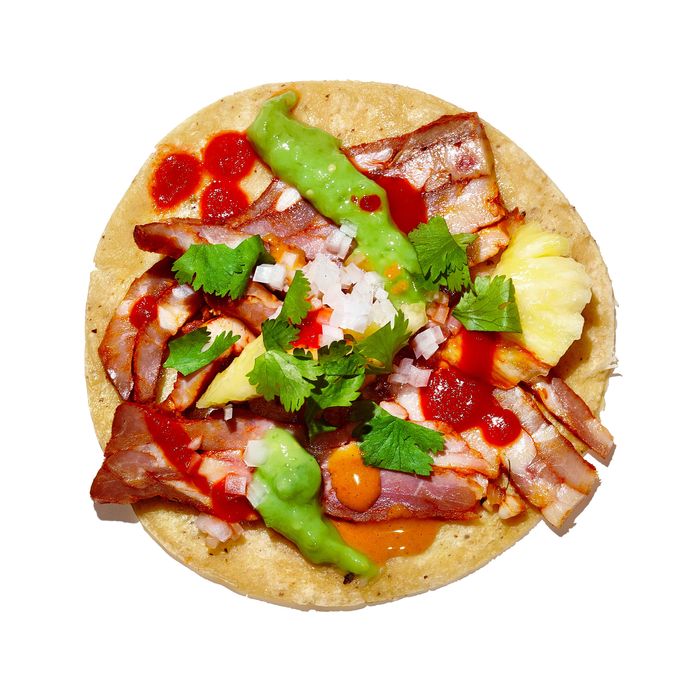 A full look inside Stupak's version.
Photo: Bobby Doherty/New York Magazine
In preparation for the opening of his new taqueria, Empellón al Pastor, and to develop his Theory of Tacotivity that we told you about yesterday, Alex Stupak's made several intensive-study trips to Mexico this past year. "These were the first times I went to only eat one thing — tacos al pastor," he says. "Normally, it's, like, 'Let's go to Oaxaca and eat everything.' This time it was, 'We're going to Mexico City and we're going to eat at 40 al pastor places in three days.'" Here's what he discovered.
1. Tacos al pastor practitioners, as a rule, are not a chatty bunch. Basically, no one would talk to him. But just by sitting around for long periods of time observing the action, you can learn a lot.
2. That pineapple typically placed atop the vertical spit so its juices, in theory, will marinate the pork? It has no effect. "It's up there only as a convenience for the spit masters to nick away at," says Stupak. "The idea that it's having any marinating effect on 300 pounds of meat is a complete and utter myth." Furthermore, the best taco al pastor he had in Mexico didn't even have pineapple, though he will include it in his own rendition at Empellon al Pastor "because you can't really not include pineapple in America."
3. Some places rub the pork in a bright orange adobo, but the best do not.
4. Most tacos al pastor come with two salsas. He'll use three: a salsa verde, a salsa roja, and a salsa arbol.
5. What's really essential is getting a nice crisp char on the pork before you slice it off. That and serving the meat on freshly made corn tortillas with onion, cilantro, and the aforementioned salsas and pineapple.
Earlier: Al Pastor Tacos Will Be the Main Attraction at Alex Stupak's Empellón al Pastor, Opening Next Month