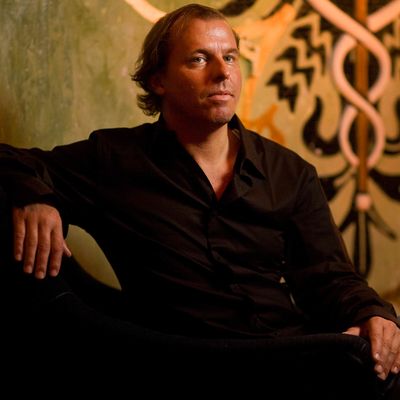 Albert Trummer cares about your immune system.
Photo: Robert Caplin/Bloomberg/Getty Images
Mad-genius bartender Albert Trummer, whose proprietary and flaming cocktails at Apothéke burned perhaps a little too brightly for New York City's nightlife scene back in aughts, has resurfaced in South Beach, where he's once again creating "fantastic medicinal cocktails." Bartenders at the Drawing Room, which opens in October at the Shelborne Wyndham Grand South Beach, will don lab coats and wheel brass cocktail carts around the large space, and the drinks menu is broken down into categories like "Stress Relievers, Pain Killers, and Aphrodisiacs."
In keeping with his previously established theme of boozy elixirs, Trummer says his mojito has "cleansing and health benefits," while the botanical compounds and herbs in other cocktails elicit a "positive reaction for the customers' nutritional and immune systems." All of which is to say the Drawing Room is a lot like Trummer's last major bar project, but on steroids. If Apotheke was modeled after an old-timey apothecary, this new place is going to be a full-on CVS.
The Drawing Room: Albert Trummer to Bring "Cocktail Prescriptions" to South Beach [Miami New Times]
Related: Pyromaniac Barman Albert Trummer Gets Light Sentence