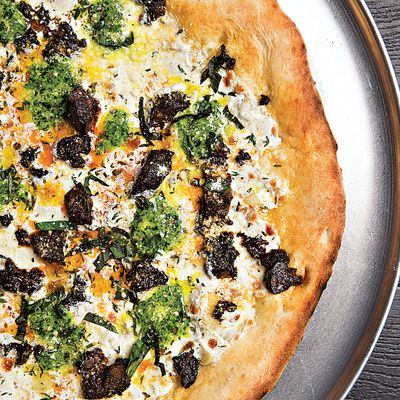 GG's morcilla-and-mozzarella pizza.
Photo: Vicky Wasik/New York Magazine
September:
Marta
29 E. 29th St., nr. Madison Ave.; 212-651-3800.
Even in Italy, Naples-style is not the last word on pizza—just don't mention it to a Neapolitan. There's the thinner, crisper Roman variety, for instance, which Maialino chef Nick Anderer is bringing to this rustic space at the newly renovated Martha Washington hotel. Besides the pies, Anderer will whip up Roman-inspired dishes like trout saltimbocca and lamb shoulder with salsa verde cooked on a fancy, eight-foot-long grill.
Cotenna
21 Bedford St., nr. Downing St.; 646-861-0175.
Roberto Passon (of Aria and Terra) attempts to fill tiny 'ino's big shoes with Venetian-style cicchetti, fresh pastas, and cold-pressed-juice cocktails.
Kang Ho Dong Baekjeong
319 Fifth Ave., at 32nd St.; 646-918-1828.
This is the first Manhattan branch of a Korean barbecue chain run by Kang Ho-dong (baekjeong means butcher), who is not a cutter of meats but a South Korean wrestler turned comedian and television star. If that fails to inspire confidence, consider that Pulitzer Prize-winning nosher Jonathan Gold is a fan of the popular Los Angeles outpost, and that chef Deuki Hong is a Momofuku Noodle Bar and Jean Georges alum.
Cosme
35 E. 21st St., nr. Park Ave. S.; 212-913-965.
Unlike chef Enrique Olvera's tasting-menu-only Pujol, his first New York restaurant will be à la carte, with shareable plates priced between $15 and $25, including a mezcal-and-chile-spiked Manhattan clam chowder and "burrata & weeds" showcasing wild plants. The chef also plans to serve "single-origin" tortillas alongside the food, to swab the sauce and to stuff with bits of meat and vegetables. Read more.
White Street
221 W. Broadway, nr. Franklin St.; 212-944-8378.
Floyd Cardoz has bid adieu to Danny Meyer only to find himself in the employ of two notoriously healthy eaters: Men's Fitness editorial director Dave Zinczenko and Nightline co-anchor (and vegetarian) Dan Abrams. Can we expect calorie counts on his menu?
Empellón al Pastor
132 St. Marks Pl., at Ave. A.; no phone yet.
Next month, Alex Stupak opens his most casual place to date (he calls it a bar and tortilleria), situated in the corner space that once housed the punk-rock dive Alcatraz. The idea is to strip everything down to the bare minimum, both to keep costs low and to remove all potential obstacles between taco and customer. Read more.
Bowery Meat Company
9 E. 1st St., at Extra Pl.; 212-460-5255.
Because man (and, ostensibly, restaurateurs) cannot live on sushi, and burgers, and tacos alone, the prolific team behind Lure Fishbar, El Toro Blanco, and B&B; Winepub branches out into beefsteak.
Birds & Bubbles
100B Forsyth St., nr. Grand St.; 646-368-9420.
Sarah Simmons' southern menu runs the gamut from black-eyed-pea falafel to crawfish étouffée, while the whole philosophy of the restaurant is spelled out in its name—a reference to the signature buttermilk-brined fried chicken accompanied by a split of Champagne (from a 40-bottle-strong list) for $55. Read more.
Shuko
47 E. 12th St., nr. Broadway; no phone yet.
Nick Kim and Jimmy Lau, the chefs who left Masa to open Neta, 8th Street's most elegant restaurant in recent history (no offense, Sticky's Finger Joint), strike out on their own with this kaiseki spot nearby.
Aldo Sohm Wine Bar
151 W. 51st St., nr. Seventh Ave.; no phone yet.
This magazine's best sommelier of 2006, Austrian-born Aldo Sohm, and his Le Bernardin boss Eric Ripert go casual in the old Palio space. What to expect: salads, panini, cheese, charcuterie, and, come Oktoberfest, who knows? Maybe Sohm and Ripert in Tyrolean hats and lederhosen?
Kappo Masa
976 Madison Ave., nr. 76th St.; no phone yet.
It only stands to reason that the purveyor of New York's priciest fish would one day find his way to the city's ritziest precinct. And so Masayoshi Takayama has joined forces with Larry Gagosian in a space adjacent to Gagosian's Upper East Side gallery.
Via Carota
51 Grove St., nr. Bleecker St.; no phone.
The first professional partnership from couple Jody Williams and Rita Sodi will be inspired by tradition but subject to spontaneous appetite, and will be open all day long, like Buvette, from early morning Counter Culture coffee and cornetti to evening aperitivi and cocktails. Read more.
King Bee
424 E. 9th St., nr. Ave. A; 646-755-8088.
King Bee brings Acadian cooking to the East Village, and for anyone who was brought up on ployes (buckwheat-flour pancakes), poutine râpée (meat-filled dumplings), and fricot (stew served with dumplings), this is undoubtedly great news. Refined versions of those dishes appear on chef Jeremie Tomczak's menu; partner Eben Klemm is the molecular man behind the cocktails.
Tacuba
35-01 36th St., Astoria; 718-486-2727.
Julian Medina is stepping outside his Manhattan comfort zone and bringing Tacuba to Astoria; the Toloache chef describes the place as an "approachable cantina" with an insomniac DJ spinning until 4 a.m. on weekends.
GG's
511 E. 5th St., nr. Ave. A; 212-687-3641.
Where once there was Goat Town, there will soon be GG's, its name a tribute to a neighborhood local. Chef Bobby Hellen will forage the back garden for ingredients, including anise hyssop for the devout Mets fan's 1986 Pizza, topped with spicy soppressata and fennel agrodolce.
Milk Bar Soho
72 Wooster St., nr. Spring St.; 347-577-9504.
The new Band of Outsiders shop will partner with Momofuku Milk Bar, because what goes better with trying on slim-fitting clothes than binge-eating cookies? The bakery will also have a street-side window for furtive Cereal Milk soft-serve pit stops.
October:
Yellow Magnolia Café
990 Washington Ave., nr. President St., Crown Heights; 718-307-7137.
Rob Newton is the latest chef recruited to run a concession—in this case, the café at the Brooklyn Botanic Garden. A card-carrying locavore, he'll source ingredients from as close as the garden itself and serve exclusively New York wines.
El Cortez
17 Ingraham St., nr. Bogart St., Bushwick; no phone yet.
For connoisseurs of dive-bar food, the opening of the season has got to be this bi-level Bushwick joint from Chris Young and Stephen Tanner, the team behind the Commodore in Williamsburg. Read more.
Chefs Club by Food & Wine
275 Mulberry St., at Houston St.; 212-941-1100.
As at its Aspen branch, this showcase for emerging talent changes its menu frequently, depending on which rising star is featured at the time. Ducasse alum Didier Elena is culinary director, and Food & Wine's Dana Cowin is talent scout.
Uma Temakeria
64 Seventh Ave., nr. 14th St.; 646-360-3260.
Positioning itself as the Chipotle of sushi, this spot specializes in the cone-shaped temaki of Brazil. But there's more: The man behind the seaweed-wrapped recipes is All'onda chef Chris Jaeckle, doing some mass-market moonlighting.
Team Torrisi High Line Project
820 Washington St., at Gansevoort St.; 212-254-3000.
The words the partners behind Carbone and Parm are using to describe the menu at this yet-to-be-named restaurant are light and healthy and coastal Italian. So instead of rib eyes and T-bones, count on whole grilled porgy with grapefruit giardiniera, house-cured anchovies, zucchini carpaccio, and lobster Catalan. Read more.
Four & Twenty Blackbirds
597 Sackett St., nr. Third Ave., Gowanus; no phone yet.
What began as an unassuming pie-baking business out of sisters Emily and Melissa Elsen's apartment is growing into a 3,000-square-foot, six-oven pie-baking juggernaut. That means enough salted-caramel-apple pies this Thanksgiving to reach, if placed end to end, practically across the Brooklyn Bridge.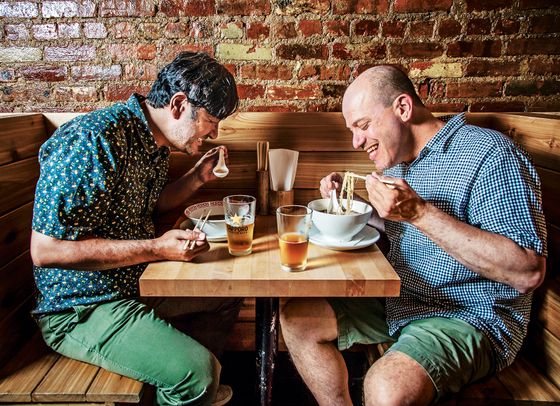 Ganso Yaki's Tadashi Ono and Harris Salat.
Photo: Todd Coleman

Ganso Yaki
515 Atlantic Ave., at Third Ave., Boerum Hill; 718-403-0900.
If you've never had the opportunity to try air-dried skate wing or calf-liver sashimi, here's your chance: an izakaya from Tadashi Ono and Harris Salat, who together wrote the book on Japanese comfort food (no, really—it's called Japanese Soul Cooking).
Mu Ramen
1209 Jackson Ave., nr. 48th Ave., Long Island City; 917-868-8903.
Joshua Smookler, a Korean-American adopted by a Jewish couple from Port Jefferson, bopped around the restaurant industry before finding his bliss in a pop-up ramen-ya operating after hours out of a Long Island City bagel shop. This fall, Smookler and his wife, Heidy, parlay that four-month run into their bricks-and-mortar Mu Ramen. Read more.
Upland
345 Park Ave. S., entrance on 26th St.; 212-686-1006.
Justin Smillie once lost a job for spending too much at the Greenmarket, but it's that very farm-to-table profligacy that won him acclaim at il Buco Alimentari, whence Stephen Starr poached him to open this seasonal spot. Look for dishes like coffee-soaked lamb breast with okra, Sun Gold tomatoes, and beans.
Alegre
146 Orchard St., nr. Rivington St.; no phone yet.
Chopped judge Aarón Sánchez pays tribute to the cooking of the pioneering Mexican chef Zarela Martinez, who happens to be his mother.
Happy Ending
302 Broome St., nr. Forsyth St.; no phone yet.
Café Select's Oliver Stumm and gallerist Max Levai reincarnate the shuttered nightclub as a restaurant and bar, with art on the walls and a Michelin-starred French chef—Francis Gabarrus, protégé of Joël Robuchon and Alain Ducasse—in the kitchen.
El Colmado Butchery
53 Little W. 12th St., nr. Washington St.; no phone yet.
A butcher shop in the Meatpacking? What a quaint idea. This multihyphenate tapas bar-retail shop-takeout spot is a partnership between Tertulia's Seamus Mullen and the owners of the Brass Monkey pub next door.
Baked Tribeca
279 Church St., nr. White St.; 212-775-0345.
To mark its Manhattan expansion, the owners of this Red Hook bakery have added sandwiches on Almondine baguettes, variously topped toasts, and beer and wine to their buttercream-frosted repertoire.
Parm
235 Columbus Ave., nr. 71st St.; no phone yet.
"We're adding, not subtracting," says partner Jeff Zalaznick about the comparatively palatial UWS satellite branch of the Mulberry Street original. The adds: pasta and entrée sections, 100 wines under $100, a Thomas Waugh cocktail program, plus 50 more seats than downtown with more belt-loosening room between them.
Chez Jef
241 Bowery, nr. Stanton St.; 212-388-0052.
After a successful limited-menu trial run, Mathieu Palombino enters the final phase of the transformation of his classic American diner into a classic French brasserie with a bunch of new dishes and a redesign of the space.
Rosie's
29 E. 2nd St., at Second Ave.; no phone yet.
After a whirlwind reconnaissance trip to Mexico, Cookshop couple Marc Meyer and Vicki Freeman apply their local-seasonal know-how to traditional Mexican dishes at this new East Village restaurant.
Burger & Lobster
39 W. 19th St., nr. Fifth Ave.; 646-833-7442.
It might sound like the brainchild of an eccentric contestant on some restaurant reality show, but the concept (burgers or lobsters, variously prepared for a flat rate of $20) is a hit in London. So much so the owners are installing a giant "lobster condo" at this first New York branch with the capacity to house three tons of live crustacean tenants.
Three Points
1 Ludlow St., at Canal St.; no phone yet.
The wood-burning oven is the hub of this East Chinatown pizzeria, where signature pies are topped with things like truffle-porcini sauce and kale, sandwiches are made on pizza dough, and breakfast eggs are baked in cast-iron pans.
November:
Little Park
85 W. Broadway, at Chambers St.; no phone yet.
Having made such a success out of Locanda Verde, partners Andrew Carmellini, Josh Pickard, and Luke Ostrom take on their second Tribeca-hotel project, this one an 85-seat restaurant (plus a library and "living room") at the redesigned Smyth.
The Polo Bar
1 E. 55th St., nr. Fifth Ave.; no phone yet.
That old hash slinger Ralph Lauren is putting on his vintage-selvedge-denim chef pants and bringing his dog-eared recipe Rolodex over to the original La Côte Basque space. He's also grinding his favorite La Colombe beans at a shop around the corner called Ralph's Coffee inside the new Polo flagship store. So prepare to be outdressed by both your waiter and your barista.
*A version of this article appears in the August 25, 2014 issue of New York Magazine. This post has been updated with additional information.