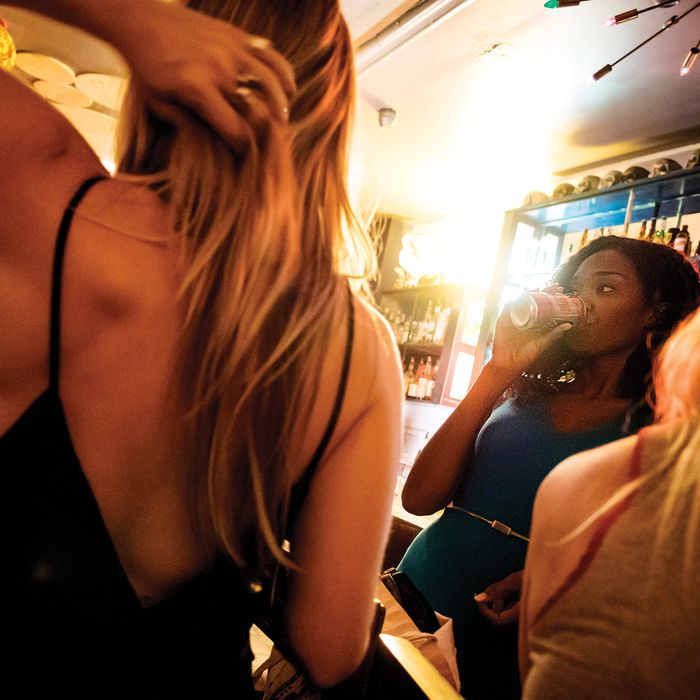 At the revived Max Fish.
Photo: Ben Lowy
Cocktail Heavy Hitters:
Boilermaker
13 First Ave., at 1st St.; 646-924-8153; early Sept.
Much of the team behind Golden Cadillac has stayed on for this revamp (good-bye, '70s disco theme; hello, industrial burlap and wood). And joining Don Lee, Greg Boehm, and James Tune will be West Coast cocktail sensation Erick Castro. Four mixed drinks will be on tap, plus better beers and a number of burgers—food's still by Miguel Trinidad of Jeepney.
The Suffolk Arms
269 E. Houston St., at Suffolk St.; no phone yet; mid-Sept.
If the patrons of legendary lesbian bar Meow Mix could see their onetime home now. Giuseppe González (PKNY) has transformed the space into an upscale cocktail den, complete with herringbone-wood bar and uncovered (cleaned) windows that allow the sunlight in.
The Ludlow Inn
1 Ludlow St., at Canal St.; no phone yet; early Oct.
Good news for fans of the super-serious Japanese-style bartending at Angel's Share: Three former cocktail-makers from that temple (along with co-owner Paolo Italia) will open a 50-seat lounge downstairs from the forthcoming Three Points pizza bar in exploding East Chinatown.
Your Locals:
Erv's
2122 Beekman Pl., nr. Flatbush Ave., Lefferts Gardens; 718-662-8813; early Sept.
By night, this cozy spot will serve craft cocktails designed by Robert Giles, late of Clarkson. Adventurous types will appreciate the rotating specialty drinks (which might feature five Fernet cocktails). The owners (the principal investor is New York contributing editor Steve Fishman) are also catering to the 7 a.m. crowd with Joe's coffee and pastries from nearby Caribbean bakeries.
No. 7 North
931 Manhattan Ave., nr. Kent St., Greenpoint; 718-389-7775; early Sept.
Greenpointers who were used to their seitan subs should fear not: Tyler Kord has rebooted his No. 7 outpost, transforming it into a bar while still serving a "greatest hits" sandwiches menu. Now there will be craft beer and classic cocktails (priced to enable third rounds; $6 to $13) to wash down the grub.

Julia's Beer and Wine Bar
818 Woodward Ave., nr. Cornelia St., Ridgewood; 917-909-1314; late Sept.
The duo behind this beer-focused bar and restaurant will cater to the locals who've supported them for two years at their nearby café Norma's. The bar side (there's also a dining space) is loungelike with a black-and-white tile floor. Aside from the beers—most from New York makers—look for a menu with small-vintner wines and charcuterie plates with meats from Morscher's down the street.
Moot Bar
579 Myrtle Ave., at Classon Ave., Bedford-Stuyvesant; no phone yet; Oct.
The Park Slope beer lovers who populate Uncle Barry's now have another bar to love from the same owners. The 1,000-square-foot space will host similar laid-back events like darts tournaments and serve 16 tap lines alongside bottles and cans—the list will likely resemble UB's collection of hard-to-find suds.

Alphaville
140 Wilson Ave., nr. Suydam Ave., Bushwick; no phone yet; Oct.
Skyler David Insler, he of relaxed dive Alaska, will open a second spot half a mile away. There's an indoor-outdoor patio, and barflies can get sustenance into the wee hours—food is served until 4 a.m. Expect bathrooms reminiscent of The Shining—and a crowd who would appreciate this.
The Scenesters:
Berg'n
899 Bergen St., nr. Franklin Ave., Crown Heights; 718-857-2337; Aug. 27
From the guys responsible for the Brooklyn Flea comes this eagerly anticipated, Annabel Selldorf-designed 9,000-square-foot beer hall. The space is anchored by long wooden communal tables where patrons can schmooze over snacks from Ramen Burger and Mighty Quinn's and drink regional beers like Two Roads pils from Connecticut.
The Happiest Hour
121 W. 10th St., nr. Greenwich Ave.; no phone yet; mid-Sept.
Expect the local beautifuls to flood this new one from Acme's Jon Neidich and bartender Jim Kearns (Pegu Club). The main floor draws décor inspiration from the '60s and '70s and will be more raucous than the subdued subterranean cocktail lounge, designed with the '50s in mind—classic drinks, Mad Men vibes, a jukebox.
Space Ibiza New York
637 W. 50th St., at 12th Ave.; 212-247-2447; Sept. 12.
Feverish EDMers will rejoice if this outpost of the famous Ibiza club actually opens this fall (almost a year later than promised). The warehouse-esque space has graffiti on the walls and six giant disco balls. Expect the same DJs and marathon parties you see in Spain during the summer. You can even ogle the same dancers, who will spend the off-season here.
Café Bambi
107 Eldridge St., nr. Broome St.; no phone yet; no date yet.
Details are scarce, but in early July came breaking nightlife news: Jack Abramcyk (DJ; brother of nightlife maestro Matt) and former Beatrice doorguy Simonez Wolf would likely open a two-story bar-restaurant on a lower-Lower East Side block near Fontana's. Café Bambi's hours will be till 2 a.m. on weekends, and the team will serve "café brasserie" dishes until closing.
Novelty Bars: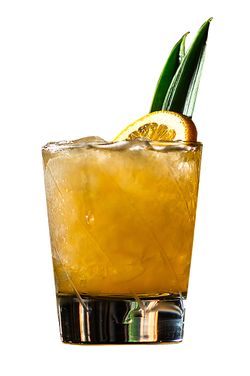 Spirited
638 Bergen St., at Vanderbilt Ave., Prospect Heights; 718-783-5700; late Aug.
At this "dessert speakeasy," the bartender will suggest pairing a cocktail with dessert from owner-"baketender" Kimberly M. Wetherell like the Big Bad Brooklyn Blackout Cake, made with Sorel hibiscus liqueur and Owney's rum. All the desserts, in fact, are made using some alcohol, and there's a pastry case where you can order a boozy brownie to go.
Lovecraft
50 Ave. B, at 4th St.; no phone yet; grand opening early Sept.
Devotees of cult writer H.P. have spent months waiting out the long renovation process. Finally, the bar with a "1920s speakeasy-meets-Jules Verne futuristic look" (that's according to owner Kasidy Devlin-Pierce) is ready. Upstairs is a bar-restaurant with fun cocktails and an Italian-leaning food menu; downstairs is a stage where jazz bands and nouveau-Balkan groups will play.
We Olive & Wine Bar
116 Smith St., nr. Pacific St., Boerum Hill; 917-560-6472; Oct.
Here's a new one: California mini-chain serves olive-oil tasting flights alongside local wines at a 25-seat bar. And if you really love the North Fork red or delicate arbequina-olive oil you try, you can buy a bottle on site. There'll be small plates on offer too.

SixtyFive
30 Rockefeller Ctr., nr. 50th St.; 212-632-5000; early Oct.
When the Rainbow Room reboots, it will be open to the public only for Sunday brunch and Monday dinner. So your best shot at sneaking a peek (save for a bat mitzvah invite) is to head to the adjacent cocktail lounge, open every weekday and boasting a heretofore private outdoor terrace on the 65th floor of 30 Rock. Nibble on bar bites by chef Jonathan Wright while sipping classic cocktails.
Max Fish Returns
In the past year, the city's lost so many scuzzy standards—Milady's and the Ding Dong Lounge among them, with Subway Inn hanging on by a thread. That's why the return of Max Fish (which held court on Ludlow Street for 24 years before succumbing to high rents and closing in 2013) is so welcome. Ulli Rimkus, armed with new investors, just opened her new space (120 Orchard St.) a few blocks from the original. The new Fish is less of a couloir and more of an open rectangle, with the same vinyl couches intact. Fishies will notice a new DJ booth and some better booze, but the most obvious difference is a seated bar downstairs for busy nights and music performances. Marc, Harry, and Shannon are still behind the bar, and the hot skaters and off-duty models—plus Chloë Sevigny—roam the place. So there may be hope for the dive yet. In fact, Mars Bar, torn down in 2011, will reopen early next year in the luxury high-rise that replaced it—though there will be mixology offerings and a juice bar upstairs. We'll take what we can get. —John Ortved
Meet the Multi-Hyphenates
Bushwick's new bars-slash-circuses.
Drum Practice + Artist Studios + Outdoor Cocktails = Our Wicked Lady
153 Morgan Ave.; Oct.
The brainchild of three former Brooklyn Bowl bartenders, with nine band-rehearsal rooms, five artist studios, and two bars—including one on the rooftop. The idea is that you come here to "work" and stay to play.
Cheap Beer + Rooftop Veggies + Good Politics = Mayday Bar & Community Space
214 Starr St.; Oct.
A multilevel space founded by a band of do-gooders to bring "social-justice organizing, community empowerment, and creative expression" to Bushwick. Think affordable meeting rooms, a rooftop farm, immigrant-empowerment workshops, dance parties, and a downstairs bar and café.
Circus Performers + Local Eggs + Housemade Grenadine = House of Yes
2 Wyckoff Ave.; early Nov.
Now in its third (and, owners hope, permanent) incarnation, the bar, restaurant, artist collective, and performance space has just signed a ten year lease in a space where there will be even more room—including an outdoor yard—for dinner theater, dance parties, cabaret shows, and circus brunches. —Vanita Salisbury

*This article appears in the August 25, 2014 issue of New York Magazine.