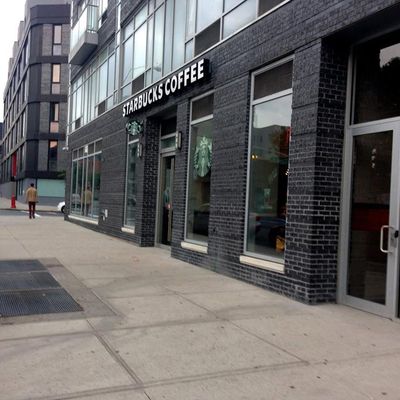 The scene this morning.
Photo: Julia Reinstein
Williamsburg's first Starbucks opened this morning at 6 a.m. sharp, and Grub Street stopped by to check out the scene — or rather, the lack of one.
The early hour may have had something to do with it, but a corner deli was nevertheless doing brisk business while plenty of people walked the street with iced coffees in hand. During the hour that Grub hung out at Starbucks, however, only a handful of people stopped in.
It's hard to blame a lack of publicity, as the opening has received plenty of coverage over the past couple of weeks. The location, also, is adjacent to the Metropolitan Avenue subway stop and surrounded by condos, including the complex that houses the store itself. "I think they'll get used to us," one member of the store's incredibly friendly staff said, wistfully.
A passerby had another take. "It was the same thing when Dunkin' Donuts first opened," she said. "People will be pissed, but then it will get good business because it's convenient."