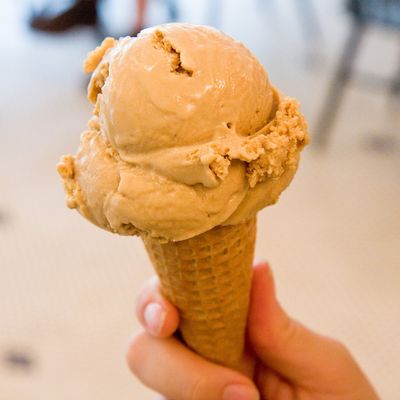 Uh-oh.
Photo: gsz / flickr
Two-year-old Portland, Oregon, shop What's the Scoop? received a series of threatening phone calls and messages, apparently from anti-abortion activists, after it announced proceeds from its limited-edition "Rose City Revolution" would go toward Planned Parenthood. The business regularly donates to various charities and nonprofit organizations, but last week its proprietor found that its Planned Parenthood flavor — honey-vanilla with rose petals — had prompted an atypical glut of complaint calls, as well as an outpouring of shock, hate, and bad puns on Twitter.
Here's a sample:
Planned Parenthood flavored ice cream? Simply stomach churning. http://t.co/DqiUvP0dfw #Prolife pic.twitter.com/AALRRgBaYp— Students for Life (@Students4LifeHQ) July 18, 2014

Disgusting-Ice Cream Shop Creates Planned Parenthood Flavor for Abortion Giant's Political Group http://t.co/7BfGo3q48p via @StevenErtelt— mabel (@Laus_Deo4ever) July 19, 2014

So there's now a Planned Parenthood flavor of ice cream, so the amount that I can't even is probably at a record breaking high— Common Catholic Girl (@comcatholicgrl) July 21, 2014

The whole world is going crazy: RT Ice Cream Shop Creates New Planned Parenthood Flavor… http://t.co/DK0kFOJqz0 via @WeaselZippers #ProLife— Karen Doe (@KarenDoe50) July 18, 2014

#HystericalIgnorants feeding #HystericalIgnorance <> Ice Cream Shop Creates Planned Parenthood Flavor http://t.co/Zf62PirKol— Mitch Richmond (@MitchRich02633) July 21, 2014

Ice Cream Shop Creates New Planned Parenthood Flavor… Doesn't get much sicker than that. http://t.co/wkPDTzhCEy via @patriotupdate— Ray Venge (@reaganpal157) July 20, 2014

TIME 4 BOYCOTT–> "@dmbatten2: "Rose City Revolution" ice cream. Rose for the Blood Revolution against God #Oregon pic.twitter.com/bcazCA5MMV— The Irishman (@commonpatriot) July 21, 2014

These messages, unfortunately, are among the most benign. One commenter posted to Facebook, "So, for the flavor supporting planned parenthood lets try, Baby blood espresso, crushed baby skull with fetus fingers, or we sold our soul to Satan." Other users suggested "Blood & Scream" and other horrible things.
Owner Jodie Ostrovsky tells Eater she and her staff are "still wrapping our minds around the reactions" as the calls and messages keep coming in, while noting What's the Scoop? has also been the recipient of support from the public since the first calls started. "Planned Parenthood is an amazing organization that does so much to help women have access to affordable healthcare," she tells the site. "The fact that some people only focus on what is such an infinitesimal part of the service they provide is confusing to me."
Ostrovsky notes this was the shop's second fund-raiser for the nonprofit, the first of which received no backlash.
Ice Cream Shop Receives Threats Over Planned Parenthood Flavor [Eater]