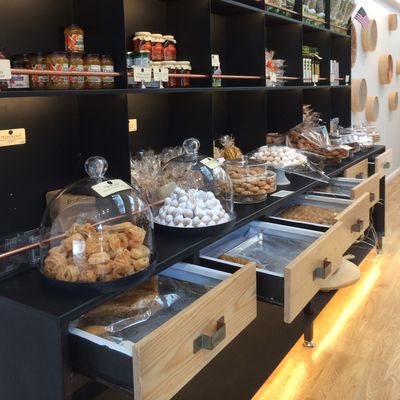 The baklava and koulouri and pretty much everything else is "totally made by hand on premises."
Photo: Rob Patronite
Brooklyn-born Regina Katopodis has been a co-owner of Astoria's excellent Artopolis Bakery for 11 years, but she's always wanted to return to Manhattan, where she ran several food stores during the '80s, to open a pastry shop. "It was my dream," she says. "I love the energy." Now, with the opening of Pi Bakerie, a lovely, lofty, sky-lit space that's part counter-service café, part production facility, her dream has come to fruition (hard by the circle of hell known as Holland Tunnel traffic though it may be). The Underground Gourmet, whose headquarters is within traffic-dodging distance of the place, is pretty happy about it too.
The original concept, says Katopodis, was to serve only round pies, both sweet and savory, but as construction progressed, she and her partners decided that that would not do. Now there is all manner of Greek delicacies, from the various nut-studded, phyllo-dough confections that fill the drawers of an elaborate display case, to the bagel-like sesame-seeded rings called koulouri, filled with yogurt and cucumbers or salmon and cream cheese.
There's also good moussaka and pastitsio, little puffy pillows of dough shaped like canoes and filled with kasseri cheese, a surprisingly great gluten-free Swiss-chard-spinach-and-leek pie, and a proper Greek salad (all tomatoes, peppers, and cukes, with nary a shred of lettuce). Except for various Greek preserves and spices and the taffy-thick strained yogurt that comes from Montreal, everything's "totally made by hand on premises," says Katopodis, who has assembled a bit of an all-star kitchen crew: Head chef Giannis Tompas, late of Loi on the UWS, gets an assist from pastry specialist Aleksandros Shytani, a master of phyllo and spanakopita from Athens. Katopodis has even recruited a Turkish baklava maven. The coffee, an essential part of the Greek lifestyle, is sourced much closer to home: from Brooklyn Roasting Company just across the river.
512 Broome St., nr. Thompson St.; 212-226-2701