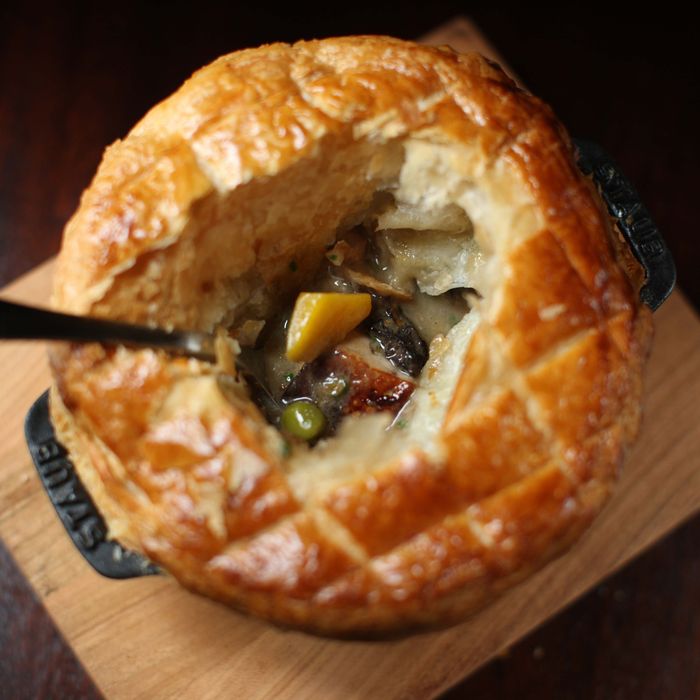 Order the NoMad Bar's potpie.
Photo: Melissa Hom
This week, the Underground Gourmet ranked the 101 best new cheap eats, with the Bronx's Bangladeshi "steam-table joint," Neerob, taking the No. 1 spot. Elsewhere in the city, Ryan Sutton found vegetarian ramen nirvana at Momofuku Noodle Bar, and Robert Sietsema visited Meadowsweet, finding the food "memorably delicious." Read it all, straight ahead.
Ryan Sutton contemplated the (stellar) merits of Momofuku Noodle Bar's meatless ramen. "It's called chickpea Hozon ramen and it's completely vegetarian. WTF, right?" He called the noodles "the most compelling new ramen to hit New York in a long time." Sutton also took a trip to Philadelphia, reviewing Iron Chef Jose Garces's newest high-end restaurant, Volver. He found it "right where it needs to be": not exactly worth traveling to Philly for, but enticingly inventive nonetheless. Highlights included the deconstructed carrot cake that "might rank as a dessert of the year."
Robert Sietsema dined at Polo Dobkin's Meadowsweet in the former Dressler space, declaring the food "mainly terrific." He deemed the hand-rolled ravioli "one of the most satisfying things I've eaten this year." But the service was a tad shaky, and entrées weren't great.
Steve Cuozzo headed to the NoMad Bar, where he enjoyed "the best 'tavern food' ever by a four-star chef." In his three-star review, Cuozzo singled out the Scotch olives and chicken potpie as a cheaper, but no less delicious, child of its parent restaurant's "sinfully stuffed bird." Although the drinks were a bit expensive and some "Slob Scourge clientele" less than desirable, the desserts, like a dark-chocolate "candy bar" resembling "the old Sky Bar gone to heaven," assuaged any woes.
The New Yorker's Shauna Lyon sampled the city's Lebanese offerings, visiting the East Village's Au Za'atar, Balade, and Toum. At Au Za'atar, the eggplant-based condiment saltet al raheb was "good enough to eat by the spoonful," but the homemade complimentary pita bread was "the best thing in the house." Balade, just a block west of Au Za'atar, is a more "charming" venue, and its manakeesh lahme baajin, or pita topped with spiced ground beef and chopped tomatoes, is perfect if you're in the "mood to load up on carbs." At Toum, a lunchtime food-truck, the grilled kafta sandwich was a standout — a complex-tasting "Lebanese quesadilla" that was "crunchy and chewy, tart and sweet, all at once."
Stan Sagner is the latest critic to review Tavern on the Green. In his one-star review, Sagner found the prices didn't justify the often-subpar food. A crostata with duck egg was a "gluey, vegetable-topped pancake" that "couldn't be saved," and a tender quail was "held hostage" by "concrete grits." While the birthday cake was "ethereal," the striped bass with eggplant puree "gathered its flavor from an airport smoking lounge."