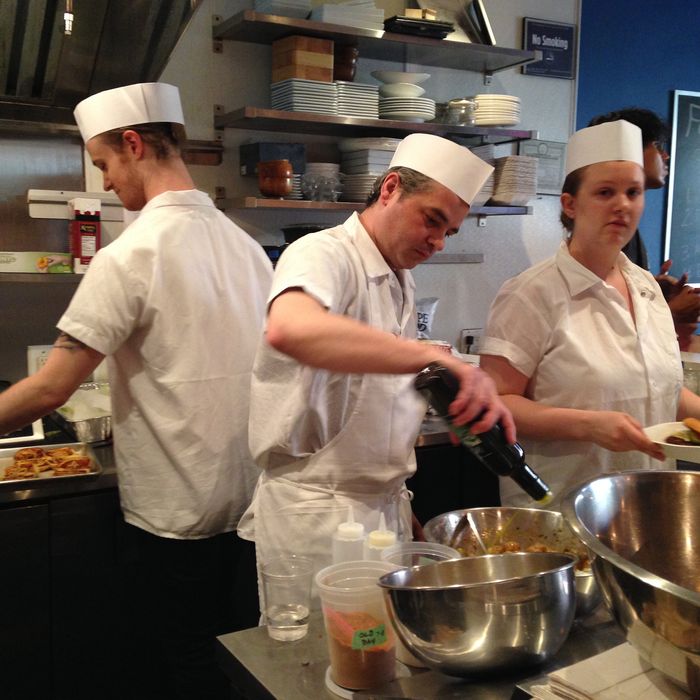 Headley in action last night.
Photo: Riddley Gemperlein-Schirm
At 5 p.m. yesterday, a line stretched down Eldridge Street, people waiting upwards of an hour to get into the space that recently housed Family Recipe. "What's going on?" a passing cyclist asked at one point. "Veggie burgers!" was the response — perhaps not the one the cyclist was expecting. Of course, these weren't any old veggie burgers; they were the new, much-hyped creation of Del Posto's James Beard Award–winning pastry chef, Brooks Headley.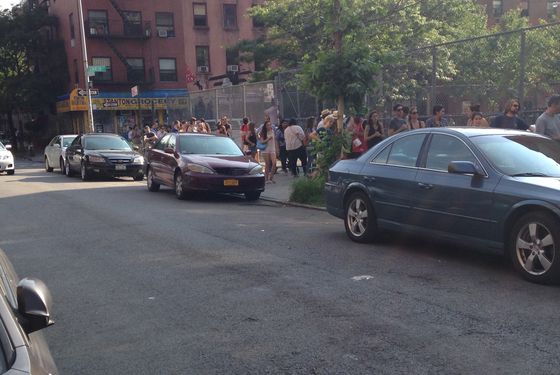 The start of the line.Photo: Riddley Gemperlein-Schirm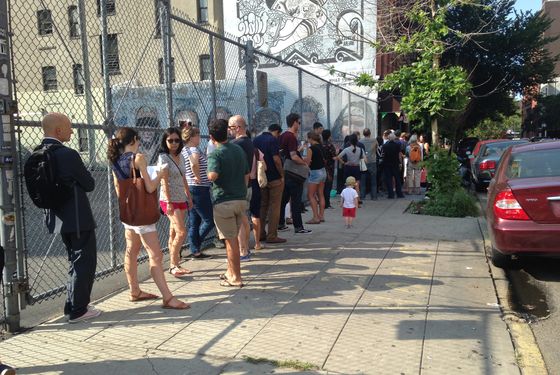 And another angle on the queue.Photo: Riddley Gemperlein-Schirm
"I didn't think anybody would really show up," Headley told Grub Street. "Veggie burgers are mostly terrible." He paused. "Actually, they're always terrible."
But Headley has been on a campaign to change that with his version: a soft quinoa patty topped with melted Muenster and cheddar cheeses, tomato, mustard, pickles, and a piece of iceberg lettuce on a Martin's potato roll (or focaccia) that he says is intended to re-create the appeal of fast-food burgers. (For the record, Grub Street's taste tests indicate he's achieved that goal.)
While he's been doling them out at select events — the Beard Awards, an industry party at Questlove's apartment — yesterday marked the first time they were available to the public, sold for $5 each at a one-day-only pop-up event he called Superiority Burger.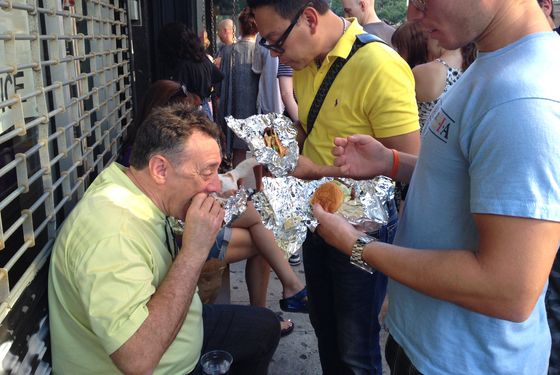 Success!Photo: Riddley Gemperlein-Schirm
And yesterday's 100-person-plus line and extremely positive responses on social media proved the burgers might have staying power beyond a single event. When Grub talked to Headley — during the rare moment when he wasn't helping his team toast buns, warm veggie patties, and mix the Old Bay potato salad he served on the side — if there were plans for a permanent Superiority Burger, the chef just shrugged. "I don't know," he said. "I have a pretty great job right now. I don't really have any plans."