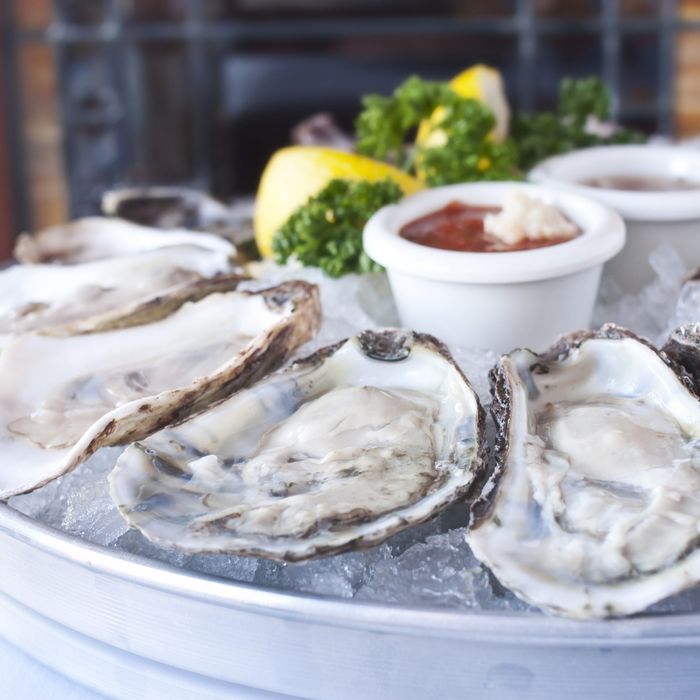 Go for it.
Photo: Richard Rudisill/Getty Images
"A dozen oysters are like refreshing, elegant little jewels on a hot July day," says April Bloomfield, the famed chef and proud ignorer of the rule that you should only eat oysters in months whose names contain the letter r. Avoiding oysters in the summer might have made sense before things like refrigeration and FedEx, but now they can be plucked from chilled waters and arrive shucked in front of customers without ever feeling the summer heat — meaning you should follow Bloomfield's advice over any inherited wisdom you've heard in the past.
Bloomfield does acknowledge that you still have to choose somewhat carefully. "As the water gets warm," she says, "Some oysters spawn, which means they're a bit more watery." So we asked the chef to recommend her favorite warm-weather bivalvles, all of which are regularly available during summer's dog days at Bloomfield's John Dory Oyster Bar as well as at a handful of other spots around town.
1. Mermaid Cove
Where They're From: Prince Edward Island, Canada
Where to Get Them: Atlantic Grill, Blue Fin, Docks, Strip House
Elegant, plump, and with a well-balanced brine, Mermaid Cove oysters are the classier cousin of Malpeques and by far one of the best of the East Coast oysters.
2. Hurricane Island
Where They're From: New Brunswick, Canada
Where to Get Them:  Hudson Clearwater, Lure, Monarch Room, Monkey Bar
From the east coast of Canada, these compact beauties are farmed with the frigid waters of the Northumberland Strait. They have a slight salinity, a tender, crisp flavor, and a lingering seaweed finish.
3. Pemaquid
Where They're From: Lincoln County, Maine
Where to Get Them: Maysville, Buttermilk Channel, PJ Clarke's
Besides having a killer lighthouse, Pemaquid is also home to this briny, crisp flavor-bomb of an oyster. Fed by the Class A waters of the Damariscotta River, Pemaquids are known for their slightly nutty finish.
4. Naked Cowboy
Where They're From: Long Island Sound, New York
Where to Get Them: the Four Seasons, Craftbar, Oceana, Redeye Grill
The wild oysters named after an infamous Times Square performer are slow-growing but muscular. With a strong brine and minerality, they live 30 feet under the water and are harvested by very cold divers.
5. Kiwi Cup
Where They're From:  Clevedon Coast, New Zealand
Where to Get Them: Aquagrill, Maison Premiere, Upstate Oyster Bar
An unexpected find from the northern coast of New Zealand — where our summer is their winter — these small oysters have slight salinity, a full, firm body, and a fruity melon finish.
6. Kusshi
Where They're From: Vancouver Island, Canada
Where to Get Them: Beauty & Essex, Blue Water Grill, Dylan Prime, Grand Banks, Old Homestead
These small, perfectly shaped oysters from the western coast of Canada are buttery and creamy, with a super-clean flavor and an unusually deep cup.
7. Royal Miyagi
Where They're From: Vancouver Island, Canada
Where to Get Them: PJ Clarke's, Marea
Also called Fanny Bay Selects, these large, ruffled shells contain an oyster with mild creaminess, an archetypically West Coast cucumber taste, and gentle minerality.
8. Mattaki
Where They're From: Vancouver Island, Canada
Where to Get Them: Beatrice Inn, Knickerbocker, Mermaid Inn (East Village)
Grown in Barkley Sound on the west coast of Vancouver Island, in the waters of the Pacific Ocean, the Mattaki have the deep cup of the Kusshi, but with a bit more earthiness and a fruity finish.
Related: Take a Look Around Grand Banks, NYC's Premier Oyster Bar on a Boat