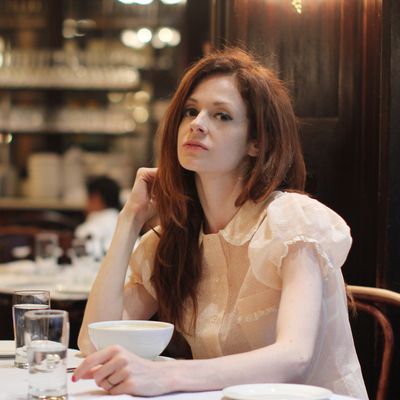 "I probably should worry about getting mercury poisoning; I had it once already."
Photo: Melissa Hom
"Ask any of my friends or colleagues, and they will tell you I have my own set of rules for most things," says Stephanie LaCava. "And this includes food." In other words, LaCava — the author of An Extraordinary Theory of Objects and a writer for The Believer, the New Inquiry, and Interview — cops to being a picky eater. "I am one of those people who eats to live, rather than lives to eat, mostly out of sheer hyperactivity," she says of a diet that includes raw-fish breakfasts, gummy cherries, and a lot of matcha powder. See what she means in this week's Grub Street Diet.
Friday, July 11
I was leaving Paris at 5 a.m. for a wedding in New Orleans, so I had to be prepared. I bought one of those massive Alice in Wonderland macarons from Ladurée. I don't like the regular ones; they were ruined after Sofia Coppola's Marie Antoinette, and when the brand had pop-up carts at Orly. They make one or two flavors in a large size that should come with a note saying "Eat me!" My breakfast was the white, vanilla one.
I then made two cups of matcha using my own bamboo whisk and the Japanese pottery bowl I travel with at all times. Which brings us to the most important staple of my diet: matcha tea, which I get in the extra thick variety (Unjonotomo) from Harney & Sons on Broome Street or Toraya on rue Saint Florentin in Paris. There's also a very potent ceremonial variety (check out the Ippodo Tea Co.), which I will use when necessary.
Usually, I bring cashews and candy for the plane, but after being in Paris for a while, I was out of stock. I love the Good Food gummies (summer peaches or cherries!) that they sell at Gourmet Garage, or the sheriff stars from Sockerbit. My writing office, which is a jail cell with Helmut Newton photos jammed into the windows to block the light, is stocked with them, and the secret potion.
When I landed in NOLA, I was starving, so once I got to the hotel, I ordered room service. My go-to is always an omelette made with olive oil — no butter or canola oil — and whole eggs, never egg whites. It's an Ayurvedic thing that you should eat the egg whole as it was meant to be. I stand by this. Later, I ate an avocado, which are always handy and usually easy to come by. My game was totally thrown off when I ended up at a dinner party eating M&M;'s. When no LaCava-appropriate food is available, you defer to hearty candies like M&M;'s or Skittles.
Saturday, July 12
Woke up in NOLA, went to Cafe Amelie, named after the mother of the first American Princess of Monaco (though I like to think it's after my favorite meddling French gamine), and I had a muffaletta sandwich and andouille gumbo — just kidding. I ate the roasted natural chicken breast. There are only a few places I'll eat chicken from: In New York, it's either Cafe Gitane, Cafe Mogador, or the Waverly Inn, because it's free range and delicious. Matcha instead of espresso.
Sadly, there were no green beans on the menu. Some close friends call me "Beanz" or "Stringbean," not because of my stature, but because my favorite food is haricot verts. You have never seen someone eat as many string beans in one sitting. The charming waiters at Cafe Flore in Paris know to give me two of the haricot verts salads and the guys at the Waverly Inn in New York always serve me a casserole of green beans without me having to ask, which I proceed to eat like French fries.
Later, I ordered some sashimi from a local place in the French Quarter to have in the hotel, just in case I got hungry later. At the wedding, I was very naughty and smoked a few cigarettes and drank a little Champagne (otherwise I rarely drink, and only Champagne or potato or quinoa vodka). And when I got back to my room, I ate all the sashimi late at night. My salmon sashimi supply back in New York often comes from Sunrise Mart on Broome Street. I will buy the whole slab of raw fish and eat it — or two — like a heathen.
Sunday, July 13
Another early wake-up to fly, and another room service omelette and lots of matcha. I still hadn't had a chance to refuel the snack supply, so I had to get Skittles at the airport for sustenance! Once I got back to New York City, I went to Hampton Chutney and got three avocado-only dosas. I ate all of them. When I was pregnant, someone else took over my body (his name is Max) and I lived on microwave burritos, guacamole, and now my beloved dosas, which I discovered at Hampton Chutney. I am trying to learn to make them at home, but I worry that then they may go out of business.
Around seven, I ordered sashimi and naruto rolls (no rice, just salmon, avocado, and seaweed wrap) from Tataki for delivery, and then I passed out without eating any of them. It had been ten days of working, writing, and traveling without allowing for jet lag.
Monday, July 14
Back in Manhattan. I got up and made matcha and ate the sashimi from the night before while making scrambled eggs for Max. (I ate the leftovers later.) I usually eat sashimi for breakfast — I like the protein, and it's my favorite thing ever.
After going to the gym, I picked up my stash of Sin-O-Buns (raw buckwheat-based pastries) and kelp noodles from the Juice Press on Mott Street. I was in my studio at 8 a.m., writing and drinking matcha. Usually, I won't break until 4 p.m., and will eat candy and cashews until then, but Monday, I had lunch with a friend at Blue Ribbon Sushi. Sometimes, I will bring work to Blue Ribbon and eat there alone around 3 or 4 p.m. The house salad is epic. I get it with rice vinegar, instead of the ginger dressing. I probably should worry about getting mercury poisoning; I had it once already.
Tuesday, July 15
Matcha! Matcha! And two raw snacks — more Sin-O-Buns. Then into the studio with a stash for the week — a bag with more day-old-or-so avocado dosas and kelp noodles. I ate a handful of raw cashews and a pack of gummy cherries while I wrote.
Dinner was at my long-standing favorite, the Waverly Inn, and I had the chicken.
Wednesday, July 16
I woke up and I ate Amy's macaroni and cheese for breakfast, but it's not really macaroni and cheese, because it's soy-free, gluten-free, and dairy-free. I had three cups of matcha — the really strong kind. And then, I met a friend at the Sant Ambroeus in Soho: I love their salmon tartar.
I had another matcha — I often make it right there at a restaurant's table and embarrass everyone. I order hot water, and people just know.