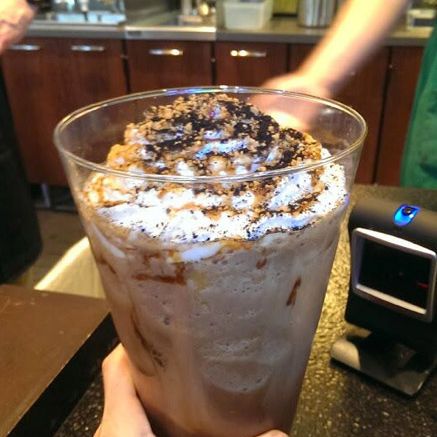 Enough caffeine to kill a man.
Photo: Andrew Chifari/Twitter
Starbucks Corporate was forced to grin and bear it again yesterday when it learned a Florida woman ordered a 60-shot $57.75 Frappuccino so she could risk lethal over-caffeination and, in the process, unseat Andrew Chifari, the Texas guy whose $54 Vanilla Bean Mocha Frap was previously considered Most Absurdly Expensive Frappuccino of All Time. (Which, actually, it wasn't.) Like Chifari, this customer — "Sameera" — used her Gold card and didn't pay a dime. Both had to bring in comically oversize glassware.
With the shock value of these monstrosities seemingly as durable as consumers' desire to copycat them, Starbucks clearly needs a plan to deal with the rise of Brobdingnagian-portioned Fraps. After Chifari's, it beseeched employees to please adhere to company policy, which it's now reiterating again.
"Per our existing policy," it writes, "beverages larger than Trenta size (31 oz.) cannot be made or served. This includes personal cups that exceed 31 oz (or a Trenta-sized cup). For blended beverages and espresso drinks, those cannot be made or served in sizes larger than a Venti (24 oz cold cup/20 oz hot cup)."
The problem, of course, is that rogue stores get a torrent of free publicity and pay a very small price. You aren't supposed to be able to order biscotti Frappuccinos from the "secret menu," either, but since when has that ever gotten in the way of an eager barista and the extra tip you'll shell out for your unnecessarily complicated espresso drink?
$61 Sexagintuple Frap 2.0 Breaks Starbucks Free Drink Record [Consumerist]