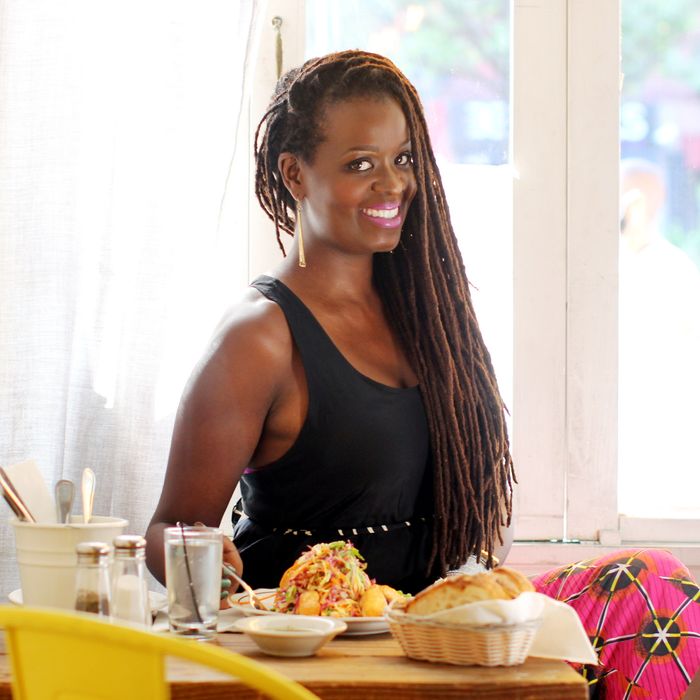 "We ended up doing a late round of drinks and brussels sprout tacos."
Photo: Melissa Hom
"I moved to Harlem because I loved the fact that there was so much African fare here," says Somi, an acclaimed East African vocalist and songwriter. "Even if the food's not straight African, I love that it's inspired by African heritage and culture and flavors." Somi, now a pescetarian after 18 years of vegetarianism, was born in Illinois to immigrants from Rwanda and Uganda, spent a portion of her childhood in Zambia, and holds a degree in anthropology and African studies. She also recently spent 18 months in Lagos, Nigeria, — the inspiration for her upcoming album The Lagos Music Salon, out August 5. Learn where to get stuffed avocado and shop for African spices and teas in this week's Grub Street Diet.
Friday, July 18
For breakfast, I had a cup of fresh lemon and ginger tea. I'm also big on getting lots of fruit in the morning for sustained energy, so I also had a large bowl of cherries.
When I had a free moment for lunch, I popped into neighborhood spot Double Dutch for a soy chai latte and a delicious serving of cumin-scented pearl couscous with mixed lentils, peppers, tomato, and feta.
In the evening, I had an early dinner meeting at cute Harlem eatery Barawine. I'd love to see more vegetarian options on their menu, but I like the vibe there. There's also a diverse selection of wines and a pretty rocking DJ. I had the quinoa and tofu salad with a glass of riesling. My friend and I shared the vegan chocolate mousse.

Saturday, July 19
My morning started in the gym, so I grabbed a honey-yogurt-peanut Balance bar and my water bottle. Fifty minutes of cardio and several squats later, I made myself a spicy kale, herb, and egg white frittata with a side of avocado, black beans, and mixed greens.
By early evening, I'd made my way to a friend's rooftop barbecue in Park Slope. They were grilling Ethiopian Berebere chicken. I opted for a Jamaican veggie roti filled with curried chickpeas and callaloo, with an an agave-infused skinny mojito. It was lovely: The meal and the atmosphere reminded me why I always love summer in the city.

Sunday, July 20
I started my day with a watermelon, mixed berry, kale, and mint smoothie — summertime ingredients. I just threw the kale in there so it felt a little heartier and nutritious.
I had a lot of writing to do, so I parked myself in one of my favorite neighborhood spots — Serengeti, a gorgeous little café that has the city's widest selection of African spices and teas. I spent a few hours working and drinking a pot of soy chai tea made with an actual blend of teas from my family's village in Uganda! What are the odds of that? New York, I love you.
Dinner was with friends at Landmarc, where I had a large Mediterranean salad with added grilled portobello mushrooms. I also had their never-too-sweet blueberry crumble for dessert. I can never get enough of blueberries.

Monday, July 21
I had a cup of dandelion-root tea with agave and almond milk to start. I also made an egg-white scramble with herbes des Provence and a side of mixed green salad.
I was running from one meeting to the next all day, so I grabbed a bottle of coconut water and a pack of raw almonds. Nuts are always my go-to energy snack when I'm hungry and on the run.
Once I got back uptown, I had to get ready quickly for the premiere of the James Brown biopic Get On Up at the Apollo Theater. Since I had to hit the carpet at 6:30 and the film didn't start until 8 p.m., I wasn't sure if dinner was going to happen. Thankfully, they had popcorn to tide me over through the film, and then, at the after-party (in a tent behind the theater), I had a gorgeous plate of kale tossed with pistachios and Parmesan, a side of roasted beets with feta, and herbed, roasted potatoes. I also tried one white-chocolate-and-blueberry truffle for dessert. Yum! I'm not a big drinker, so I had several rounds of Pellegrino with lemon and mint.

Tuesday, July 22
After a night of dancing into the wee hours, I needed a pick-me-up. So I had a shot of wheatgrass at home before a glass of iced green mint tea.
I also had a fresh rosemary currant scone that I bought, even though I love baking. It's pretty typical in an African household that you learn to cook as a young girl. The first thing I started to do in the kitchen was baking, because I was the youngest girl in my family, and all my older sisters and my mom would be cooking, and I wanted to participate, but I was too young to handle knives or cut onions or whatever.
I met friends for an early dinner at Yatenga Bistro. The Burkina gentleman who owns this spot also owns great uptown live music venues, like Shrine and Silvana. I ordered the Madame Yatenga Salad: tossed red and green cabbage, carrots, arugula, and citrus vinaigrette topped with grilled salmon.
Our conversation carried us downtown, where we ended up doing a late round of drinks and Brussels-sprout tacos at Horchata. I love Brussels sprouts. Also, I say "a round of drinks" so it sounds sexier, but really it was just me and my Pellegrino.

Wednesday, July 23
After the gym, I had to head straight to a radio interview, so I made a smoothie with banana, almond butter, and cinnamon and hit the road. Cinnamon is my secret ingredient. I guess it's not a secret anymore.
On my way home, I grabbed lunch at Seasoned Vegan, a new place in Harlem that sprouted out of Lee Lee's Baked Goods. Mr. Lee is this elderly African-American gentleman who's been in Harlem several years, and he makes rugelach. I didn't go there this week, but it's amazing. Mr. Lee always lets people use some of his bakery space to sell other things, and the woman who owns Seasoned Vegan had this stand there for a long time, before opening this restaurant. I ordered her raw stuffed avocado salad with cashew cream and pico de gallo, and I had a carrot-apple-ginger juice to cleanse my palate and keep me energized for the rest of the afternoon.