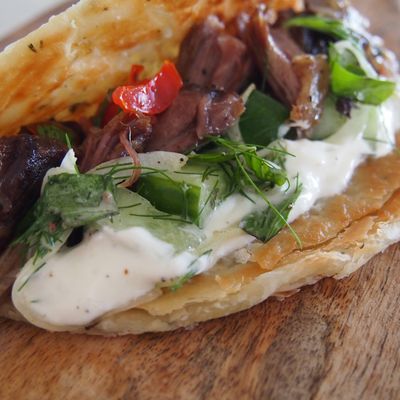 Say hello to a vendor that combines Goa-inspired parathas and the Mexican form of the taco.
Photo: Edna Ishayik
Brooklyn Flea co-founder Eric Demby says that the company's long-awaited beer hall spinoff Berg'n Beer Hall will open within the next month, and in the meantime, this weekend marks the arrival of Smorg Jr., a nine-stall miniature food-vendor market within the Park Slope Flea. Its starting lineup includes Eastern Czech kitchen Korzo's famous deep-fried hamburger and filled Lebanese flatbreads from Manousheh, but the breakout-hit-in-the-making seems to be Goa Taco, an Indian-Mexican mash-up making its global debut on Saturday.
By deploying Goa-inspired four-inch buttery, flaky, parathas in place of traditional corn or flour tortillas, Goa Taco chef Duvaldi Marneweck will serve what are essentially tacos served on something that's a lot like a flattened croissant. Marneweck's arsenal of manic flavor combos include crispy-skinned Chinese five-spice duck with Chinese pickles and corn salsa, and a beef-tongue Reuben version. For Smorg Jr.'s opening day, fillings include charcoal-roasted pork with pickled red cabbage and chipotle mayo; a second, yet-to-be-announced offering might end up including anything from rolled and spit-roasted pork belly to crispy fried Thai pork hocks. Whatever it ends up as, it'll likely have a fried egg on top.
Marneweck is a South African native who went on to cook in kitchens around the world; he spent the past five years working in some of the top restaurants in Perth, Australia. He landed in Park Slope a month ago, and now Goa Taco is his first foray into New York City's dining scene. Marneweck explains that he's been sitting on the idea for a while, gradually developing the repertoire and trying it out only on family and friends. "I kept it to myself until this moment," he says.
The Brooklyn Flea guys are hoping Marneweck's paratha tacos will give their Slope-side offshoot a boost. The market-within-a-market opens this weekend with five vendors, before scaling up to nine by the end of the month. In addition to Marneweck's start-up, Korzo, and Manousheh, there's Gaddy Lane, which will sell innovative sandwiches from a chef who cooked at the Redhead in the East Village.
Related: What to Eat at Berg'n, the New Brooklyn Beer Hall Serving Tons of Amazing Food