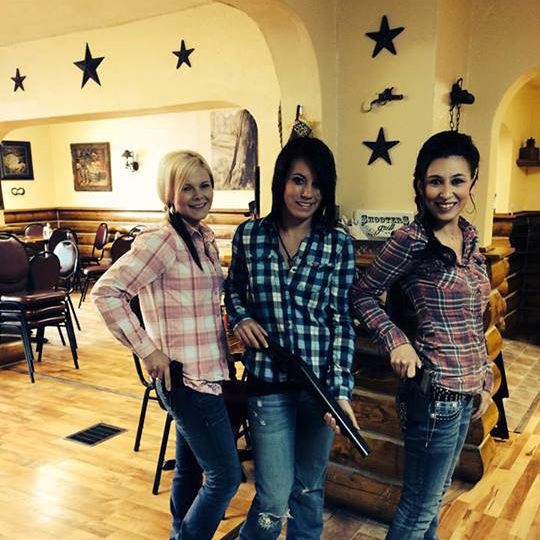 Shoot.
Photo: Shooters Grill/Facebook
Gun fans who fear they've lost the Second Amendment war in America's eating establishments should visit Shooter's (location: Rifle, Colorado), where on any given day the waitresses alone pack enough heat to neutralize a posse of Open Carry activists. The year-old burger spot doesn't require staff to carry guns, but all nine waitresses do, anyway, in large, conspicuous holsters. Their tableside arsenal includes Glocks and a thigh-length Rueger Blackhawk .357. On the menu are items like the Smith & Wesson Grilled Cheese and Locked and Loaded Nachos. Also, your salt shaker is a converted shotgun shell; in other words, the place is way, way beyond gun-friendly.
The setup is not just a bonanza of a publicity stunt, either: Owner Lauren Boebert assures everyone the servers pack real heat. "No, they're real and they're loaded, and we know what we're doing. I fear for anyone who tries to rob us."
Because of tricky open-carry laws, though, there's no alcohol allowed, but elsewhere, the times are certainly changing: In Oklahoma, the Omaha city council has just unanimously approved plans for a bar and café to open inside a massive shooting range, after reviewing plans to keep the drunk and armed customers safe and separate by making them wear ID bracelets.
At Colorado Burger Joint, Waitresses Pack Heat [Fox News]
Shooter's in Rifle Serves a Big Helping of Second Amendment [Summit Daily]
Related: Massive Oklahoma Gun Range Will Have Attached Bar and Cafe for Some Reason