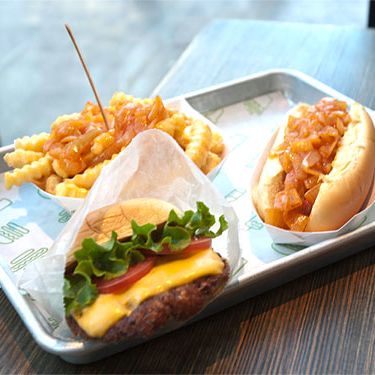 Shake Shack is opening on Flatbush Avenue next month.
Photo: Jed Egan
Outposts of Parm and Umami Burger are already opening at North 4th Street and Bedford Avenue, and this morning, word started to spread that Danny Meyer's Shake Shack had signed for a space at North 4th Street and Berry, a residential building that will have at least three commercial tenants on the ground floor. (Starbucks opened nearby this week, chain-wise, but no one seems at all excited about that.) Specifically, the "head construction guy" at the site told Free Williamsburg that Shake Shack was moving in.
We checked in with Shake Shack communications executive Greg Waters, who wrote back in an email:
We're huge fans of Williamsburg, but at the moment we don't have anything concrete to share. As far as Brooklyn goes, right now we're focused on our DUMBO location which opened last month, and we're putting the finishing touches on our Flatbush Avenue location which we hope to open in early August.
Gothamist reports the same information, noting that the message isn't a strict denial.
It's been a busy year for Shake Shack. A weeklong celebration at the chainlet's original Madison Square Park location in June involved limited-edition hamburgers laden with toppings like shrimp patties and shaved black truffles, which drew in thousands of fans, and shortly after that, Shake Shack continued its colonization of other boroughs, including a Dumbo location last month. Its second outlet inside JFK Airport's T4 opened July 5, its Barclays-area store opens in August, and otherwise, this bit of merchandising may prove to be an indication that the chain is committed even more to Brooklyn. We'll probably find out soon, in any case, and whatever the news is, we're almost sure we'll hear it before the restaurant's flagship closes down after the summer for its previously announced renovations.


Shake Shack coming to Williamsburg? [Free Williamsburg]
Related: Shake Shack Dumbo Opens Today
Related: All Shackiversary coverage