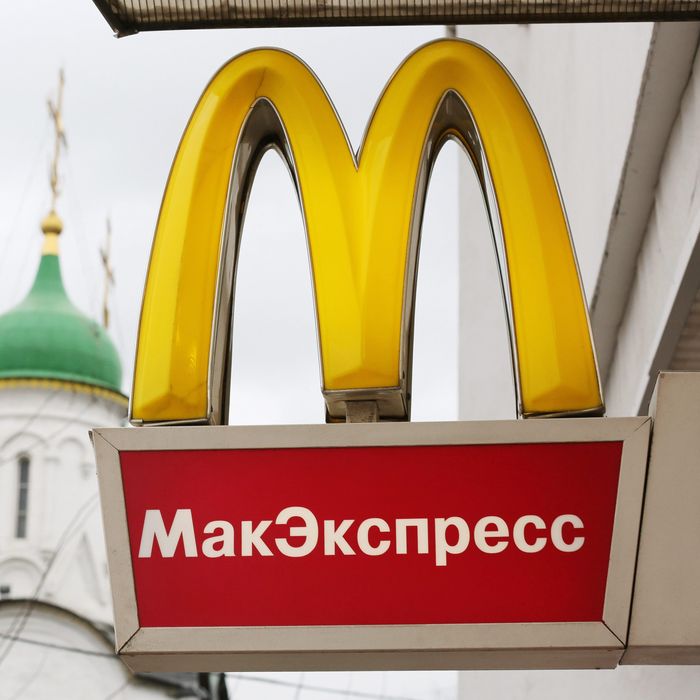 Better stick to Rusburger.
Photo: Andrey Rudakov/Bloomberg via Getty Images
Russia's McDonald's outlets (424 total) will be serving Vlad-knows-what if Rospotrebnadzor, the government's consumer protection agency, gets its way. The authority has essentially asked the court to declare the fast-food chain's salads, cheeseburgers, "Royal" burgers, Chickenburgers, Filet-O-Fish, milkshakes, and ice-cream desserts with fruit toppings illegal because of "inappropriate physical-chemical and microbiological parameters." (In a surprise move, however, the watchdog group has determined that Big Macs are okay.)
The group's outpost in Novgorod conducted an investigation last month, it turns out, allegedly finding an excess of coliform bacteria in its salads, which is never a good thing, and general subterfuge with regard to the nutritional information McDonald's posted on all those other items. So now the chain must pay the price, or something, in the form of a greatly attenuated menu.
Rospotrebnadzor, Reuters points out, previously moved to ban Georgian wine imports after Tbilisi politicians "strengthened ties with Washington," and has channeled other foreign policy-based matters into yet other forms of food and drink diplomacy. For McDonald's, it a sign that the ridiculous fanfare with which it was received in 1990 when it first opened is now ancient history.
The chain's salad days are clearly over now that the watchdog agency is making a hard argument to the government that its salads will make customers sick. The report is just the latest in a series of blows for the chain. McDonald's shut down in Crimea earlier this year, and in a recent poll, some 62 percent of people allegedly responded by saying they support the closure of all McDonald's in Russia.

Russia takes aim at McDonald's burgers as U.S. ties worsen [Reuters]