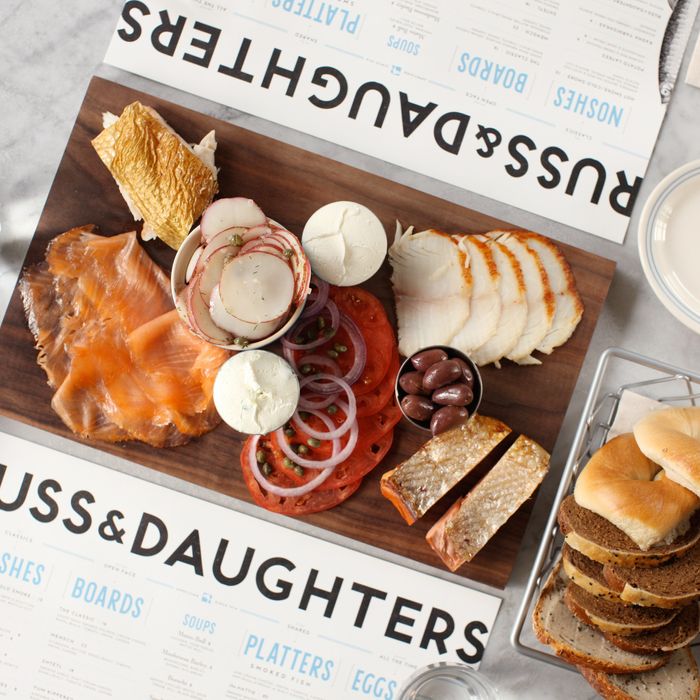 Two stars.
Photo: Melissa Hom
This week, the Underground Gourmet's Rob Patronite and Robin Raisfeld explored the "peaceful coexistence of old and new" in Ridgewood's foodscape. Elsewhere in the city, Pete Wells loved Russ & Daughters Cafe, Ryan Sutton decided Dover's tasting menu was not worth its price tag, and Robert Sietsema found The Gorbals faltering with "almost there" dishes. Read it all, straight ahead.
Pete Wells visited Russ & Daughters Cafe, praising the sit-down offshoot of the 100-year-old shop just a few blocks away. In his two-star review, Wells praised the rye bread that was "as different from most ryes as bourbon is from light beer" and deemed the cold borscht "excellent." Some dishes quality paled in comparison to their price, like the $60 scrambled eggs with paddlefish caviar and "stale" challah bread and the $22 bagel with four slices of sturgeon. The successes outshone the pricey duds, though, including the halvah ice cream and knishes packed with caramelized onions that tasted "like baked potatoes."
Ryan Sutton reviewed Dover, pondering if the Carroll Garden restaurant's $95 tasting menu was worth its price tag. The short answer: no. Rather than being cohesive, the menu seemed like strewn-together à la carte dishes that were "an iPod shuffle version of an omakase instead of the full length album." A pici pasta with "sandy breadcrumbs" tasted like "someone accidentally dropped the noodles on East Rockaway Beach." But "avoid the tasting and you'll eat well, possibly very well," Sutton said, noting dishes like salmon with tomato confit that was "packed with insane oceanic oils." Two stars.
Robert Sietsema reviewed Top Chef alum Ilan Hall's new restaurant, The Gorbals, inside Williamsburg's Urban Outfitters. Sietsema found the transplanted West Coast restaurant's Jewish-Asian fare struggling. Bacon-wrapped matzo balls were not a good combination and a fermented celery broth with a parmesan crisp left Sietsema unpleasantly wondering, "Why?" Meat dishes fared better, including rabbit with vinegar-cured cherries that had a "woodsy savor," and the pickled mussels were "the best dish on the menu." Overall, though, the menu was "almost there, but not quite yet."
Steve Cuozzo claimed Barchetta was "doomed" by both its location and "careless dishes." In his one-and-a-half-star review, Cuozzo singled out the "African pompano" fish that was undercooked and "strictly from hell." While the salads, starters, and a few sparse dishes were "pitch-perfect," the majority of the menu was amok. The swordfish was "oily," clams in the Fusilli napolitana "sandy," and the pork chop "arrived well-done and without an ounce of moisture." Desserts were well executed, but the rest seemed to thrown together, answering to the question ""Hey! What's lying around?"
Zachary Feldman visited St. Marks' Box Kite, a café that serves dinner à la carte or a twice nightly, 10-course tasting menu for $85 after 6 p.m. The "raw cooking style" succeeded in its "provocative but ultimately approachable" style, like cured mackerel atop fried-reindeer lichen nests (think, moss) that looked like "Viking sushi," and fermented tomato gazpacho that was "electric." The only misstep was a bland yellow zucchini vichyssoise with almond tofu. But a foam made from pungent Winnimere cheese atop gnundi had a pleasant "acrid funk" that hung "over the plate like edible smog."
The New Yorker's Shauna Lyon headed to Rockaway Beach Surf Club, where she feasted on "barbecue and brunch out of a food truck." Sriracha-honey smoked wings, masa-crusted shrimp po'boys, "tender" kale salads, and grilled watermelon with mint pesto were "ultra-summery," perfect for surfers, hipsters, and beachgoers alike.
Joshua David Stein gave Montana's Trail House zero (out of five) stars, calling it a "very bad place." The Bushwick restaurant's "Appalachian East coast country food" not only seemed to capitalize off a very impoverished region on the U.S., but the menu was haphazard and really just "generic Southern food." Seasonal vegetables were an oily disgrace and a gelatinous rabbit terrine was "so poorly executed that it fell apart like a dysfunctional family of Thumpers." To eat there is to participate "in a crummy project," Stein concluded.
Time Out's Christine Izzo broke down the best new chicken and duck wings in the city. Winners included Mission Cantina's dry-rubbed wings that hit the "spicy-salty-sour trifecta" and Andy Ricker's Whiskey Soda Lounge NU's twice-fried wings with a "crispy rice-flour-tempura coating" that were pretty much the best bar snack ever, especially if you're waiting to get into Pok Pok Ny, located down the street.
Michael Kaminer also reviewed The Gorbals, but had a more favorable opinion of the quirky restaurant. In his three (out of five) star review, Kaminer, unlike Sietsema, found the bacon-wrapped matzo balls "irresistible" and the banh mi poutine "a multitextured treat." Really, he enjoyed most everything, from wood-fired wreckfish that "gave us one of many 'wow' moments" to "off-the-charts weird" desserts like a brownie with crisped onions and Vidalia-onion-infused caramel syrup.