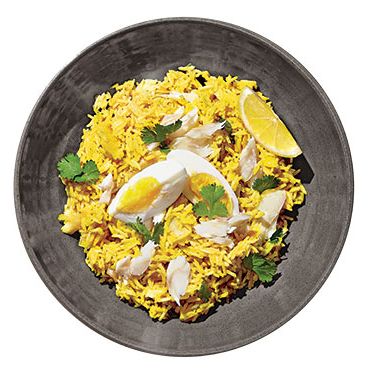 Photo: Bobby Doherty/New York Magazine
The Anglo-Indian classic kedgeree was born during the colonial era, when the British rejiggered the quotidian Indian breakfast dish of mung beans and rice called khichri, swapping out the legumes for smoked fish and adding hard-boiled eggs and cream. Slower to infiltrate New York menus than, say, shepherd's pie or even Scotch eggs, kedgeree is enjoying a bit of a moment, with robust versions available at hot spots like the John Dory Oyster Bar, Tørst, and, on occasion, Saltie. The latest kedgeree arrival to these shores is the one sometimes seen on the daily-changing menu at Rose Bakery, the American outpost of a Paris-based chainlet co-founded by English chef Rose Carrarini, who calls the flavorful fusion "a perfect breakfast"—even if her Kips Bay restaurant doesn't open until 11 a.m., noon on weekends.
Mouse over the image to read more about the dish.
On the menu at Rose Bakery, $17 160 Lexington Ave., at 30th St.; 646-837-7754.
*This article appears in the July 14, 2014 issue of New York Magazine.