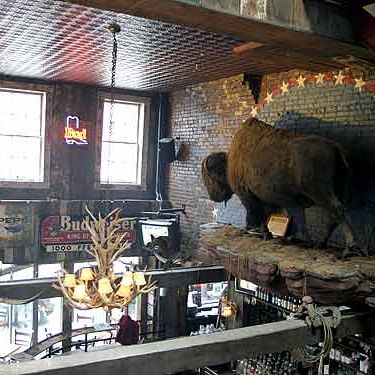 "We're going out with our boots on."
Photo: Noah Kalina
Sad news for country-music fans: After 27 years in business, Rodeo Bar will close on July 27. The bar cites a steep rent increase for the closure, further proving that New York's real-estate problems are serious. It'll be open every night until the end, so stop by and pour one out for honkey-tonk.
A message appeared on the bar's Facebook page that reads, in part:
We are deeply saddened to announce that after 27 years in business, Rodeo Bar and Grill is closing its doors after July 27, 2014.

Here at New York's longest-running honky-tonk, we stayed open during some of the city's toughest times — Hurricane Sandy, the 2003 blackout, 9/11 — but recent rent increases, combined with a changing landscape, have made it impossible for us continue.

For the past three decades, Rodeo Bar has been home to thousands of bands, and we're proud to have helped define the country, Americana and rockabilly scene in New York City for all these years. But more than that, we were supported by an incredible community of people from New York and all over the world who helped make this bar great. We can't thank y'all enough.
And, as you might expect, people are not happy to hear the news:
Damn, Rodeo Bar too? This city's death is accelerating quickly. R.I.P. #NYC #CityLife #BarLife— Mr. Lee (@DeadFlowers66) July 10, 2014

WHY MUST THE NYC REAL ESTATE INDUSTRY DESTROY EVERYTHING THAT I LOVE. http://t.co/yMGpAy1mOW— naeelah (@gildedbat) July 10, 2014

The last show, ever, will be Eugene Chrysler on July 26.
This post has been updated with new information.