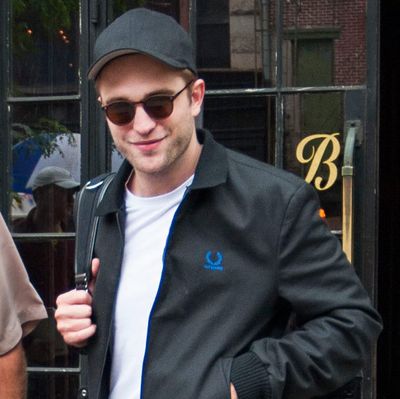 Likes Misugaru, too.
Photo: Eddie Mejia / Splash News/Corbis
In this week's installment of celebrity settings, (mediocre) sushi seemed to be the go-to meal: Demi Lovato ate at SushiSamba in the West Village, while Scott Disick dined at the restaurant's Gramercy location. Christian Slater also enjoyed some raw fish at Blue Fin in Times Square. Read all about it, straight ahead.
Antica Pesa: Toni Collette ate dinner in Williamsburg. [amNY]
Beauty & Essex: Daniel Radcliffe dined with girlfriend Erin Darke and Broadway co-star Sarah Greene. [Page Six/NYP]
Bill's Bar and Burger: Kiefer Sutherland ordered a burger and a soda. [amNY]
Blue Fin: Christian Slater had sushi and other dishes from the raw bar. [amNY]
Bostwick's Chowder House: Naomi Watts ate seafood with her two sons. [amNY]
Caffe Bene: Robert Pattinson went solo in Union Square and drank a Misugaru. [amNY]
East Hampton Grill: Taylor Swift had dinner with Steven Spielberg and his family. [Page Six/NYP]
Isabella's: Heidi Klum dined on the Upper West Side. [Page Six/NYP]
Patsy's Italian Restaurant: Michael Bublé and Frankie Valli sat a table away from one another. The chef later introduced the two. [Page Six/NYP]
La Marina: Kevin Hart and hip-hop artist Fabolous attended a July 4th party. [Page Six/NYP]
Le Pain Quotidien: Orange Is the New Black star Taylor Shilling had lunch. [amNY]
Pagani: Valerie Bertinelli ate in the West Village. [Page Six/NYP]
Patsy's Italian Restaurant: Rose Byrne had dinner with boyfriend Bobby Cannavale. [amNY]
Paul & Jimmy's Ristorante: Adam Scott and Alison Brie filmed a scene for Will Ferrell's upcoming movie Sleeping With Other People. [Page Six/NYP]
Rowdy Hall: Bethenny Frankel had a kale salad for lunch. [amNY]
SushiSamba: Demi Lovato and her friends ordered rolls and pork-belly lettuce wraps. [amNY]
SushiSamba: Scott Disick had a late lunch. [amNY]
Tavern on the Green: Gloria Steinem had lunch alongside Ms. founding editor Letty Cottin Pogrebin. [Page Six/NYP]
The Heath: Jayden and Willow Smith ate dinner after seeing Sleep No More. [Page Six/NYP]
The Sea Fire Grill: Lance Bass had dinner with friends in midtown. [amNY]
The Hummus Pita & Co.: Chris Noth grabbed a bite in Union Square. [Page Six/NYP]