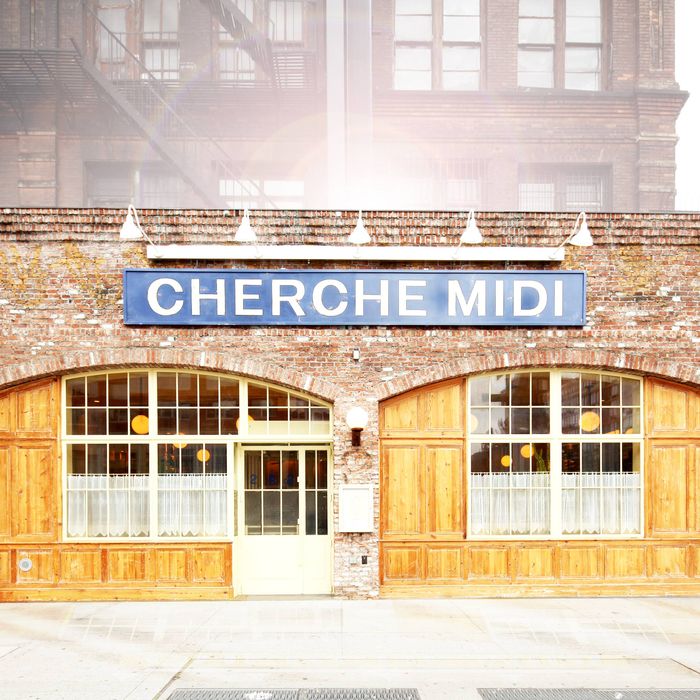 Shiny and new.
Photo: Melissa Hom
It takes humility and courage for an owner to admit that their restaurant isn't working. Some, when faced with this realization, will simply throw in the towel and move on. Others, perhaps tied to a long-term lease or with a newly clear vision of an idea that will work in a given location (or possibly both), will shut the whole operation down, revamp their concept — sometimes radically — and open anew. Rebranding a restaurant with a fresh name, design, or cuisine is certainly a risk, but the payoff is potentially huge: You can save your baby. Yet reopening a restaurant often includes as many challenges as opening a new place from scratch.

The most evident recent example is Cherche Midi, Keith McNally's revamp of the space that once housed Pulino's. His pizzeria concept went through a few iterations, but never really took off — in its place is now a French restaurant that feels almost like a greatest-hits compilation: A little bit of Pastis here, a few Minetta-worthy pieces of beef on the menu, and a pair of chefs who are deeply entrenched in the McNally way of doing things.
"When I heard that Keith McNally was doing it, it totally gave me the confidence to do it," says Michael Jacober, who morphed Glady's in Crown Heights from a sandwich shop into a traditional Caribbean restaurant, all within a year. He kept the name and the bones of the restaurant, but the food is entirely different.
Then there's Nick Morgenstern, who will close Goat Town, which he opened in 2010, to make way for GG's, which will offer pizza and pasta cooked in a brick oven. "The business was doing pretty well when we opened for the first six months, and then it rapidly declined," Morgenstern says. "Our sales dropped by 50 or 60 percent, which is massive … I don't know if I'd say I was depressed but I'd definitely say, Holy shit, all my eggs are in this basket and the thing's all falling apart."
A full restaurant transition certainly isn't easy, especially for a new-ish owner on a tight budget. "Changing your name, creating a new website, and getting new graphic design — there's a cost associated with that," Jacober says. "I definitely thought, Oh, we have to change everything — the look and the feel of the place." The costs add up quickly: Jacober gave his staff two weeks' severance, which he says cost him $15,000. The actual restaurant revamp was another $15,000, but he says it easily could have been much more — to change the name and logo of the restaurant, new graphic design would cost at least another $5,000. Remodeling, if he'd done construction, could have ballooned to $100,000.
So instead, Jacober hired a set director to simply make the existing space feel more Caribbean, which only ran him $5,000. He was also able to sell old equipment he didn't need for the new concept, and overall, his out-of-pocket costs totaled $30,000. "I was pretty stingy," he says, noting he made the money back quickly when new customers poured in. "We're slammed every night. It couldn't be more successful."
Then again, a revamp doesn't always work: Bisutoro was no more successful than Tribeca Canvas; a ramp cocktail certainly didn't help Après, the second incarnation of Apiary; Bar Breton revamp La Quenelle closed after two months; and there are countless other examples. The only thing worse than failing once is spending more money to close yet again, usually only after a few months.
The issue is that no owner wants their restaurant to come off as damaged goods: Closing signals failure in the public's mind, but sometimes the circumstances surrounding a closing have nothing to do with the actual quality of the restaurant. "If you talk to any operator who decided to rebrand, you'll hear that it's difficult for the public to understand," says Andy Ricker, who has moved Pok Pok Ny to a new location and will soon do the same with Pok Pok Phat Thai, abandoning a small Lower East Side storefront and reopening in Brooklyn. "A place that appears to be very busy — maybe they have a problem with their neighbor, or the Department of Health is constantly harassing them," he points out. "There are so many variables. Part of being a business owner is realizing that what you're doing isn't the best use of your time or the space."
That's what's driving Gabriel Stulman to turn Chez Sardine into the more casual, approachable Bar Sardine. Even though his gonzo Japanese restaurant received positive reviews, Stulman decided to rebrand because the original concept simply proved to be too niche. "It's the type of dining experience people aren't repeating three or four times a week," he says. "How often do people say, 'Do you know what I want for dinner tonight? The miso-maple salmon head'?" Not often, which is why he's transforming the space into an American bar, with a burger on the menu. Stulman is no stranger to reinvention: Jeffrey's Grocery originally housed an actual grocery store and a checkout counter, and Pete Wells deemed Montmartre, which saw a kitchen and menu overhaul after eight months in business, the "most improved restaurant of the year."
Stulman owns the fact that he usually doesn't hit a home run right away: "We don't get things 100 percent right on the first go," he says. "Some people do. We need to tinker. We're going to always and forever be self-critical of what we do. And I'm okay with that. I think people can relate to it because they need to do that in their own lives."
At this point, it's impossible to tell whether any of these restaurant do-overs will resonate with diners (though the early feedback on Cherche Midi is promising), or if people will simply be confused when they show up to Bar Sardine and find French fries instead of the foie-gras grilled cheese served at Chez Sardine. But just as the desire for something new, hot, and exciting can drive a place out of business, it can also facilitate a solid comeback. "People have such short attention spans right now," Ricker says. "The bottom line is this: If you're doing something well, and it's a good value, and you offer good service, then you'll do alright."