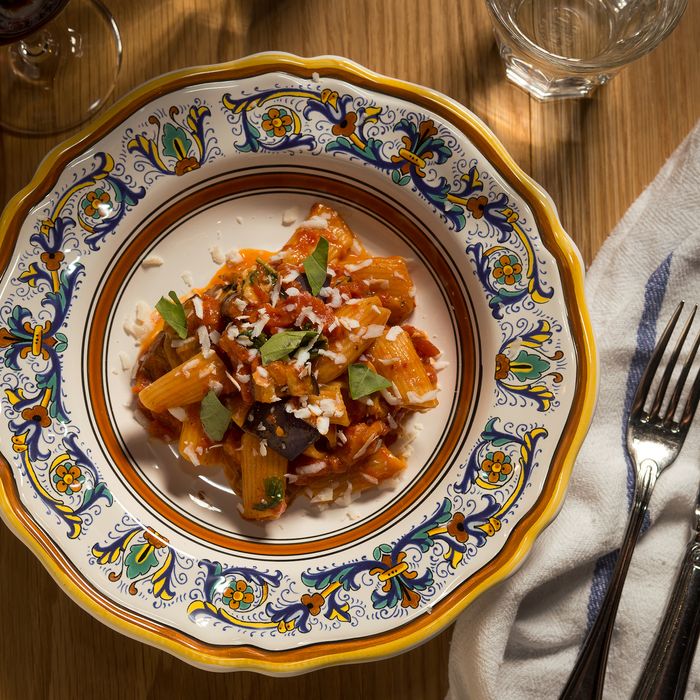 Bar Primi's a hit.
Photo: Noah Fecks
This week, Adam Platt gave Bâtard three (out of five) stars, praising the "refreshing unpretentiousness" of its prix-fixe menu items like an artichoke barigoule "so technically perfect that it caused my vegetable-snob wife to put down her fork and practically clap with glee." Elsewhere in the city, Pete Wells visited Racines NY and found the dinner and wine to be about as Parisian as any French restaurant in New York City could be, Ryan Sutton praised Bar Primi, and Robert Sietsema ventured to Jackson Heights for some awesome tacos at Bella Puebla. Read it all, straight ahead.
Pete Wells headed to Tribeca, visiting Racines NY — the "neo-bistro" often mistaken for a wine bar. Less snooty than the original Racines, Wells found both the food and wine to be superb examples of French fare. Oregon morels tasted delicious in a "pool of half-liquid burrata," and slightly seared wild salmon with cucumber sorbet and warm cauliflower cream "was like watching summer and winter meet for the first time." Entrées that included a braised lamb shank with a "gamy intensity," a dessert of basil panna cotta with strawberries, and an "almost tropical Sancerre" wine made up for the "Restoration Hardware catalog" decor. Two stars.
Ryan Sutton enjoyed Andrew Carmellini's newest restaurant Bar Primi, finding the "entry-level Italian experience" to be appealing in its affordability even to fans of Carmellini's more expensive venues. In his two-star review, Sutton singled out the "Top Gun" Amatriciana pasta that had a "perfume of lamb," and long tube of artichoke pasta made with mascarpone and finished with smoked bacon that was "essentially what lasagna would taste like if it were shaped like a pinwheel and prepared by a chef with a Michelin star, an accolade that Carmellini is long overdue for." Although the farro with sweet peas was uninspiring and the rigatoni with tomatoes "redundant," the spaghetti pomodoro was "near-perfect' and the seafood antipasto "one of the city's finest maritime salads."
Robert Sietsema found the tacos at Bella Puebla in Jackson Heights to be "off-the-wall," compelling, and with fillings "you've never heard of," giving the southern Mexican restaurant three stars. The placeros — a monster-size "market taco" with a chile relleno, boiled egg, potatoes, chiles, and yellow rice — was "an ode to New York's culinary opulence." Although the vegetable-and-beef soup was "thin" with "undercooked green beans," most of the non-taco dishes were spectacular, like a menudo or tripe soup with a "nice barnyard flavor," a guashamole special of pork or beef in an "ancient puree" of guaje seeds, and a Cuban sandwich that tasted of "cultural one-upmanship."
Steve Cuozzo found pasta-maker Barilla's recently opened midtown cafe, Academia Barilla, to be as tasteless as the company's chairman's anti-gay comments last fall. In his half-star review, Cuozzo deemed the pasta a "sexless mush of cheaper chains" and "al cemente" rather than "al dente." The fusilli puttanesca was edible, but the fusilli montanara "eerily" glowed and, according to one of Cuozzo's friends, looked "like Campbell's cream of chicken poured over pasta."
The New Yorker's Hannah Goldfield dined at Grand Banks, an oyster bar on the Sherman Zwicker, a fishing schooner docked at Pier 25 in Tribeca. While its cocktails were "tastefully themed" and the Kusshis oysters from Vancouver Island "creamy," the small plates were indeed very small, like fried squash blossoms that came with just three to an order. Goldfield also visited the Water Table on board the Revolution, an experience that proved to one-up Grand Banks. Lobster rolls and chilled cucumber served in Mason jars charmed, but really, cocktails and ice-cream floats with root beer, mandarin soda, or chocolate stout were "sustenance enough."
In his three-star review (out of five), Stan Sagner found Kailash Parbat's "affordable Punjabi vegetarian food" delicious and the service charmingly "inept." The newest Curry Hill restaurant, a branch of a 60-year-old chain, has almost 100 dishes on its menu, and standouts include Bhungal Bhee Aloo —s teamed potatoes and lotus root in "cumin-infused tomato masala — and the KP Dum Biryana that was so good "you will be fighting your fellow diners for last grain." The Kofta-e-Dilbar or paneer spheres in cashew and onion gravy, disappointed, tasting like "mock meatballs," but Pav Bhaji's potato and vegetables served with Parkhouse-esque buns was a "tasty dead ringer for a good ol' sloppy joe" and "pure alchemy."
The Village Voice's Susannah Skiver Barton found Dirck the Norseman's menu perfectly paired with its craft beer selections. The the house-made sausage was boldly served with just a wedge of lemon and "studded with orange zest" and chicken schnitzel shone with a "crunchy-crisp crust." While the portion sizes were sometimes off and the daily specials "uninspired looking," this was mostly forgiven, since the food was clearly meant to be eaten with the "superb beer list," including Mae West, a hot-weather pour with "fruit-forward sucker punch" that delivered a "startling finish."
Time Out's Christina Izzo also reviewed Bar Primi, giving the restaurant on Bowery four (out of five) stars. Highlights at the "two-story pasta emporium" included spinach cavatelli with a veal bianco sauce that clung "lustily to the pasta's seal" and linguine that "sucker-punched with heady four-clove garlic" and was "heart-stoppingly good." The smaller plates fared worse than the pasta, like fontina-stuffed meatballs with a "devastatingly water center," but the nightly specials proved better, including "succulent" lamb chops.